Just a Hummingbird feeder?
by Cindy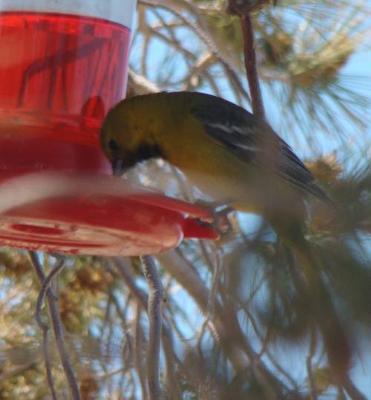 Borrowing a little nectar
WEll !!! This has been our SECOND surprise visitor to our humming bird feeder!
This morning.. after capturing some great shots of our little hummers.. so early in spring, and visiting with them all morning, I heard an unusual bird song out my patio door.
I was so surprised to see this GIANT BIRD sitting on the feeder, lapping up the nectar like the little Hummers!!
Of course it wasn't "Giant" at all, Maybe 6 or seven inches in length, but compared to the little Anna's, it looked pretty BIG on those little perches!
Don't quote me at all.. but I think it is either a Yellow Warbler or a Northern Oriole.
I am leaning towards an Oriole, because of the black spot under its chin and atop its forehead.
And he sings like an Oriole.
He guarded that feeder all day long today. Chased some
House Finches
away from getting too close to it.
I have a few HB feeders out there, as well as some Scarlet Salvia and some Fuchsias. So the little Hummers did fine.
We've also seen the Ladder-backed Woodpecker on it!!!
I know the Orioles and the Warblers will eat berries and fruit.. but maybe because out here in the desert, we don't have much of that.. they are enjoying a taste of the nectar from the feeder!!
In any case. It's the first year, I have EVER seen a different bird on the HB feeders than the Hummers.
I did see a Scotts Oriole here one day last Spring.
That was most exciting. Anyone else ever experience other birds drinking out of the HB feeders?
Please let me know!! I am LOVING backyard birding!! And all the visits from the migrating birds!!
Someone share with me!!
Cindy
Scroll For Comments
Just a Hummingbird Feeder? Part Two!
by Cindy
(High desert Mtns Calif.)
Hooded Oriole on Feeder
Hi to all you bird lovers!

Spring is definitely here in the Deserts.. and the beautiful Orioles are back. So exciting when they remember where they got some treats before.. and come back to you each year.

This is a Hooded Oriole.
I've seen it around a few times, and took this picture from inside of my kitchen window!
Yes.. Clean your windows.. and try it! LOL.. Such a beautiful song they bring to the yard.
I only have a short time of the season in which I can put Orange slices onto the branches.. or set some jelly out for the Orioles, because of the ants.
I have ant moats for the HB feeders.. but they too suffer when the bees.. come.
Even despite the bee guards.. because the woodpeckers get on the feeders and tip them then lap up the juice.. and then the bees can just stick to the feeders! Its awful. Does anyone have any suggestions?
Hope you enjoyed the picture,
Cindy