Just a Hummingbird feeder?
by Cindy
(California Desert Mountains)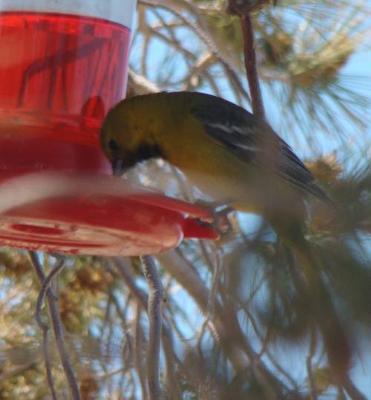 Borrowing a little nectar
WEll !!! This has been our SECOND surprise visitor to our humming bird feeder!

This morning.. after capturing some great shots of our little hummers.. so early in spring, and visiting with them all morning, I heard an unusual bird song out my patio door.

I was so surprised to see this GIANT BIRD sitting on the feeder, lapping up the nectar like the little Hummers!!

Of course it wasn't "Giant" at all, Maybe 6 or seven inches in length, but compared to the little Anna's, it looked pretty BIG on those little perches!

Don't quote me at all.. but I think it is either a Yellow Warbler, or a Northern Oriole. I am leaning towards an Oriole, because of the black spot under its chin and atop his forehead. And he sings like an Oriole.

He guarded that feeder all day long today. Chased some red-breasted house finches away from getting too close to it.

I have a few HB feeders out there, as well as some Scarlet Salvia's and some Fuchsias. So the little Hummers did fine.

We've also seen the Ladder-backed WOODPECKER on it!!!

I know the Orioles and the Warblers will eat berries and fruit.. but maybe because out here in the desert, we don't have much of that.. they are enjoying a taste of the nectar from the feeder!!

In any case.. its the first year, I have EVER seen a different bird on the HB feeders than the Hummers. I did see a Scotts Oriole here one day last Spring.

That was most exciting. Anyone else ever experience other birds drinking out of the HB feeders?

Please let me know!! I am LOVING backyard birding!! And all the visits from the migrating birds!!

Someone share with me!!

Cindy
Just a Hummingbird Feeder? Part Two!
by Cindy
(High desert Mtns Calif.)
Hi to all you bird lovers!

Spring is definitely here in the Deserts.. and the beautiful Orioles are back. So exciting when they remember where they got some treats before.. and come back to you each year.

This is a Hooded Oriole. I've seen it around a few times, and took this picture from inside of my kitchen window! Yes.. Clean your windows.. and try it! LOL.. Such a beautiful song they bring to the yard.

I only have a short time of the season, in which I can put Orange slices onto the branches.. or set some jelly out for the Orioles, because of the ants. I have moats for the HB feeders.. but they too suffer when the bees.. come.

Even despite the bee guards.. because the woodpeckers get on the feeders and tip them then lap up the juice.. and then the bees can just stick to the feeders! Its awful. Does anyone have any suggestions?

Hope you enjoyed the picture,
Cindy
Feeder Raiders
by Mike
(Southern CA)
Feeder Raiders, discussing menu
I recently came across a couple of visitors to my Hummingbird feeder that caught me by surprise.

At first glance I thought it was the biggest damn hummingbird I ever saw, of course I was wrong. I sat and watched as they helped themselves to the sweet delight hanging before them and in no time the level of the nectar was slowly going down.

They would leave and return during the course of the day, each time removing the bee guards that I replaced after their last meal. It was then that I decided to lend a helping hand.

I had parts of an old feeder sitting around and figured I'd make a new place for them to dine. I cleaned and repaired what was broken and added some new sugar water.

I hung it next to the one they were raiding but this time I left off the bee guard.

I forgot to mention that while I was making a new batch of food and getting the other feeder ready, one of the birds returned and was not happy with finding the feeder missing, not at all! It was raising such a fuss, bouncing around the hanger looking for the food that I yelled out the window... Just a minute, I'll be right there! Yeah, like that worked.

I finally got everything set up and they soon returned to continue their feasting, quietly. They checked out both feeders before deciding on the second one I had set up without the bee guard, now they have their own feeder and hopefully they'll leave the others alone.

I'm not really a birder, I just like taking pictures so please forgive me if my photo isn't quite up to standards. Also, I'd appreciate it if someone could tell me what kind of birds these are.

Thanks, I'll send more pics as they come along.
Subscribe To Our YouTube Channel To See All Our Bird Videos!