Watch Beautiful Doves and Robins from the Comfort of Your Home
Perfect Bird House For Doves and Robins
Experience The Wonder Of Robins and Doves As They Raise Their Young.
Scenes Like This Could Be
Happening In Your Backyard!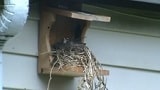 Robin Building Nest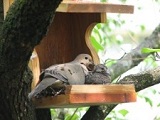 Female with Young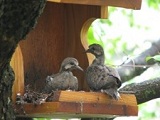 Two Squabs on Shelf
Dove photos submitted by Melissa T
What's more enjoyable than watching your favorite birds from your window? Or sitting on your patio, listening to the soft coo of the doves or the chatter of robins in the early morning?
With the Robin Nesting Shelf, you'll experience the joy of having your favorite birds close to home!
Our nesting shelf attracts birds that prefer a platform to nest on, such as Robins and Mourning Doves, which do not use traditional birdhouses. If you're eager to attract these breathtaking birds into your yard, the Robin Nesting Ledge is the perfect way to make them feel welcome.
What could be more enjoyable then watching your favorite birds gather nesting material, incubating eggs, and raising their young while you watch from the comfort of your deck or patio chair?
Step Outside to Experience a New Wonder
The Robin Nesting Shelf provides an immersive experience as you observe Doves and Robins prepare to nurture their young. You can observe your favorite birds gather nesting material and incubate their eggs, and then feed, nourish, and raise their young.
From eggs, to hatchlings, to first flight, you can now watch fledglings with excitement as they grow into young adulthood.
Doves and Robins will return to the same nesting site year after successful year, so you can continue the pleasure of watching your favorite birds for years to come!
Our Mounting Tips for Success
To achieve perfect placement of your Nesting Shelf:
Place these nesting ledges under the eaves of your house, garage, or outbuildings.
Secure it to a tree for easy viewing.
Mount at least 6 feet from the ground to avoid ground predators.
Be sure to hang it before mating season.
Each nesting shelter measures 8 x 7 x 9 inches, the perfect size for Robins and Doves, and are made for long-lasting durability.
The angled slope of the roof will prevent the accumulation of late snow or water, so your favorite birds stay warm and have a shelter for protection during the colder months.
We are proud associates of Amazon.com. As such, we earn commisions from qualifying purchases at no additional cost to you. See our
Privacy Policy Here
palomas de las aves/petirrojos