Morning Doves Take To Hanging Basket #2
by Janice Jessup
Two Tiny Dove Chicks
This is the second installment on my Morning Doves along with a picture of the chicks.
Late this afternoon I was looking out of the window and noticed that the adult dove was perched on the rim of the basket.
I grabbed my ladder and camera.
When I opened the front door the dove flew off so I had the freedom of taking the photo without a nesting parent covering their treasures.
It appears to me that the chicks are several days old, what is your guess?
Enjoy!!
Morning Doves Take To Hanging Basket
by Janice Jessup
( )
Almost 3 weeks ago upon leaving my front door, there was a flutter of birds away from the door.
I looked at the door to find a very poorly constructed nest being built in my door wreath.
I cleaned away the mess and continued on with my day.
As the day wore on I felt sorry for the Mourning Doves so decided to buy a wire basket with a coco liner as all garden centers have these.
Also, they look so much like a nest that perhaps the doves would rebuild their nest in this thing.
I hung the basket about 6 feet from the front door and from the ceiling of the porch.
Sure enough, they took to it and have been nesting there for over 2 weeks.
I still was concerned that my coming and going would disturb them and they would abandon the nest but they held fast!
I naturally boned up on Mourning Doves to find out that they incubate for 2 weeks and the young fledge about 2 weeks after that.
How quickly these doves leave their nest!!
Mama Dove has hatched 2 chicks within the past few days so now I will be watching for their progress and fledging.
I have taken photos of this progress but it appears that I can add only one photo to this story.
I have been watching the Bald Eagles at the Norfolk Botanical Garden in Norfolk, Va for over a year now, so this event comes home to me with a big bang!
My Doves have really given me a great deal of pleasure and excitement that beats all experiences recently. Enjoy !!
Doves in hanging baskets 2
by Staci in the City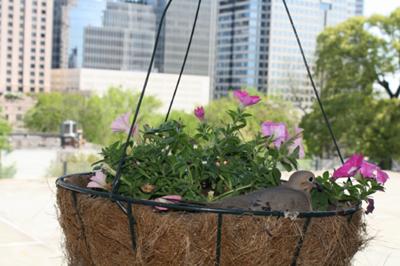 Doves Nesting in Flower Basket on Balcony
I have a dove on my patio in a hanging basket as well!

I have been worried it was there to die as I never see it leave to eat but I guess they are slipping in and out by me.


Here's the really interesting thing.
I live in the middle of a large city and the basket is on my small balcony.
What a treat to have them decide to nest on my balcony.
I hope they don't mind me coming out, ever so carefully, to water the other plants.
They seem to be ok with me now, I guess if they are city birds they are used to the noise and such.
Should I leave food for them you think?
Mama Dove Nest in Peppermint Hanging Basket
by Guen
(Sacramento)
Mourning Dove Babies
Literally, the day after I put my brand new peppermint plant in its hanging planter, Mama dove moved in.

Thankfully for both mama and plant, it's on a directed drip system, so watering is automated and posed no threat to eggs or babies.

She also didn't bother with any sort of nest, I guess the planter and new dirt supplied a sufficiently soft nest.
Mama and babies are doing great, just checked on them today!
Last year she nested on my bicycles and created quite a proper nest.
Join in and write your own page! It's easy to do. How? Simply click here to return to Mourning Dove Invite.