Wild-Bird Watching - The Habits of Birds
Search For Your Bird By Clicking Image Below
Enjoying Our Backyard Birds
Hello from Wild-Bird-Watching! - you've found the birding site that more than a million people visit each year to find answers and learn new things about our feathered friends and their habits.
Are you searching for answers about a specific bird that you've been watching? Looking for that perfect gift for a favorite birdwatcher?
Then stick around and check us out. The more you look around, the more you'll see we're about making birdwatching and learning the habits of birds something you'll enjoy.
Live Nest and Feeder Cams
We try to get our camera on a nest each season. This allows you the opportunity to watch live and in real-time what happens in nature. We don't stop there, though.
Previous Live Bird Cam
Check us out in winter as well. We'll zoom our cameras to a feeding station where viewers watch and hear birds like Chickadees, Cardinals, Juncos, and more.
Check Out Our Popular Pages
You'll find this resource on the top menu. This is where you'll find articles that answer questions you might have. Take a look at some of the questions we've answered for our visitors:
Caring for Baby Birds
Birds Pecking/Attacking Windows
Where Birds Sleep
How Birds Keep From Falling Off Branches When Sleeping
Do Birds Mate For Life
Even How to Grow Your Own Birdhouse
Sometimes pictures aren't enough, that's why we've been adding video on the page of each species you read about. You'll be able to compare what you see in your backyard to the information you read and the video we show.
Not Sure Which Seed Is Best
What Seed for What Bird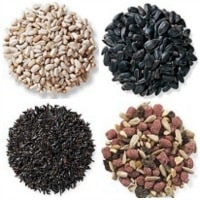 Not sure what type of seed to offer the birds in your backyard? Check out our Bird Seed Chart and you'll see what bird is attracted to what seed.
You'll also learn everything you need to know before you spend a penny of your hard-earned money.
Feeding backyard birds should be fun, but not expensive. Don't waste your money buying seed that won't attract the birds you want to see.
Offering the right seed can add to your enjoyment of watching birds. Learn how to get Cardinals, Chickadees, Goldfinches, and more.
Build a Birdhouse
Want to build a birdhouse? You'll need the dimensions of the floor, entrance hole, and more. No problem, we've added a birdhouse chart to our page.
Don't want to build your own, no problem. We have information on what you need to know before buying and a great place to shop for all your birding needs.
Whether you are new to birdwatching or a seasoned pro, I hope you'll enjoy learning all the habits of the birds visiting your backyard.
Enjoy the Sound of Nature
Relaxing Bird Sounds
GSP Services
USA