Experience the Thrill of Eagle Watching in Arkansas an Eagle Cornucopia!
Arkansas is consider by many as the mecca of Eagle Watching during late winter, Primarily because of its many large and open winter waters.
Bald Eagles feed on fish as a primary food source, and Arkansas lakes provide the food these birds crave.
"Above all other birds it is the soaring eagle, with its size and weight, that gives the most abiding impression of power and purpose in the air," declared Edwin Way Teale in Atlantic Monthly in 1957.
Unique to North America and revered for its majestic appearance, legendary strength and longevity, the bald eagle became the national emblem of the United States in 1782 and continues to be an easily recognized symbol of patriotism.
Once endangered in all of the lower 48 states, bald eagles came dangerously close to extinction.
However, due to increased awareness, protective legislation and widespread conservation efforts over the past fifty years, the bald eagle population is making a remarkable comeback, and eagle watching is becoming a popular pastime for nature lovers across the country, especially in Arkansas as well as parts of Missouri.
Kelly Farrell, Park Interpreter for DeGray Lake Resort State Park in Bismarck, Arkansas, has seen hundreds of bald eagles during her numerous jaunts as an eagle-watching tour guide.
"It never gets old," she remarked. "They are amazing and captivating each and every time I get a glimpse."
Park Interpreter Sarah Keating of Lake Dardanelle State Park concurred. "The feeling of seeing this majestic bird soaring across the lake for the first time I went eagle watching was and still is awe-inspiring even to me.
Therefore, any time you can help a visitor experience a 'first' like this is truly gratifying."
Bald eagles follow seasonal food supplies, so they travel south along the Mississippi Flyway from around Canada, Minnesota, Michigan, Wisconsin and Illinois when the northern waters begin to freeze.
Migratory patterns vary according to John Morrow, Park Interpreter at Petit Jean State Park. "Some eagles are here year-round for eagle watching, and some are coming in from Canada and the far northern states.
Some don't migrate at all-like in Alaska, where they are almost as common as dirt."
Best Time to Visit Arkansas for Eagle Watching
Eagles begin to arrive in Arkansas as early as mid-October and stay all winter long, departing around February and as late as mid-March.
Over 1,700 eagles may winter in The Natural State, depending on weather conditions. Wintering eagles favor the Ouachitas and Ozarks for the excellent habitat replete with open waters, food and shelter.
"The locations they choose are usually remote with little disturbance making eagle watching more difficult.
Good winter roosting areas are available," commented Park Naturalist Merle Rogers of Roaring River State Park in Cassville, Missouri.
Mainly fish eaters, Bald Eagles are attracted to the area's abundant lakes, undeveloped shorelines, countless streams and wild rivers.
"When the lake's surface water temperature falls to 41-42 degrees F, there is a mass die-off of shad, a small fish that is a favorite among eagles," revealed guide Jay Viator of Belle of the Ozarks in Eureka Springs.
"Young, immature bald eagles, not yet skilled at catching fish, frequent chicken barns in the area to eat dead chickens thrown out by farmers," he continued.
In addition to fish and carrion, eagles feed on turtles, waterfowl and small mammals, which they hunt themselves or pirate from smaller raptors.
"They are lazy birds!" exclaimed Park Interpreter Lori Anderson of Petit Jean State Park. "They want to find food without much work.
Being the largest bird around, the eagle will steal food that other birds catch."
While bald eagles are unscrupulous when it comes to finding meals, they remain faithful mates. At age 4 or 5, an eagle reaches sexual maturity and shifts its focus to both finding a mate and raising offspring.
The typical courtship ritual includes aerial somersaults during which the pair whirls through the air with locked talons. Eagles can live up to 30 years in the wild, and they mate for life.
Producer Gary Cooley of Ozark Mountains Website, Inc., named His Place Resort on the White River just outside of Mountain Home as the premier place for eagle watching because it has a pair that returns each year to nest.
"These eagles are fascinating to watch. The male brings sticks and other nesting materials to the female, who promptly throws them away. Then the bickering starts between the two birds," he shared.
The peak months for eagle watching are December through February, and January is Eagle Awareness Month in Arkansas. When embarking on an eagle watching expedition, keep the following in mind:
Get out early. Eagles soar in thermal updrafts, so the best time to see one in the air is when the temperature is rising during mid- to late morning.
Stay behind a blind. A tree or car acts as an effective blind. Eagles sometimes are shy creatures.
People walking around or towards a perched eagle will chase it off its roost, and flying away drains energy needed by the eagle to survive in winter temperatures.
Look near the waterways. For the most part, eagles stay 3/4 of the way up trees while fishing from the banks. Their white heads and tail feathers are easy to see against the trees along the shore. Many resorts or marinas on lakes have pontoon boats for rent.
Look into a guided tour. There are many half- or full-day tours with expert guides available. For inexperienced boat operators, running the river in low water can be very challenging.
Report any nest sightings. Arkansas Game and Fish Commission monitors all eagle nests in the state as part of nationwide conservation efforts.
Anyone who observes a bald eagle nest is asked to report it to the AGFC's Wildlife Management Division at 877.873.4651.
Be mindful of the law. Possession of an eagle feather or other body part is a felony with a fine of up to $10,000 and/or imprisonment.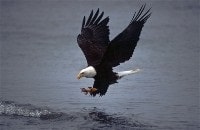 Exceptions apply only to certain Native American tribes with appropriate legal documents.
For information on more eagle watching opportunities, contact your local park rangers or naturalists.