Primative Bird House
by Jack
(Eatonton Georgia)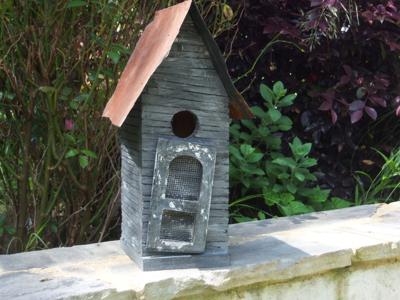 My First Birdhouse
My First Homemade Bird House
I Have always been interested in building birdhouses.
In every antique shop or junk store I go in I always look around for different and unusual birdhouses.
For some reason, I just always liked them.
Well, I finally got some time on my hands, so I thought I would give it a try.
Started out by going to the local home store and just got some 8" pine lumber.
I got home and started on the design I wanted.
Got through the basic house and looked at it and thought, anybody could build this.
I wanted something different.
Found some rusted tin for a top and believe me, it is not easy to cut.
After that, got out the saw and started making lines to look like old siding.
And then out with the paint. White and black and a mixture of both.
I think my first birdhouse turned out fairly well. But most of all, it was fun to do.
I already have another that I will start within the next week.
But this time, it will be bigger and better.
Hope you enjoy it,
Jack
Add Your Comment or Read Comments Below
Acorn Woodpecker Nest Box
by Carl Stoeckel
(Tucson, Arizona)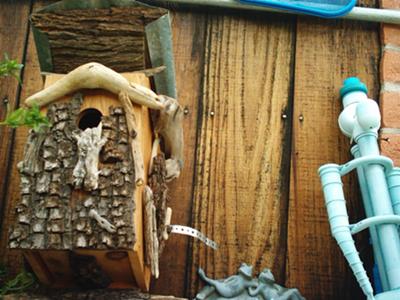 Acorn Woodpecker Nest Box
I have begun building nest boxes for screech owls, American kestrels, Gila woodpeckers, and house finches.

I asked my friend, Tiffany, a resident of the Central California Coast and avid birder, whether she too would like a house; and, if so, for what type of bird.

The Oakland communities of the Central California coast land support communities of Acorn Woodpeckers.
She and I researched dimensions of the boxes, orientation for hanging, height for erection and so forth.
When she came to Southeastern Arizona for her annual summer birding week, she brought with her pieces of Pacific Coast driftwood, while collecting Ponderosa pine and Alligator Juniper bark locally on her birding treks.
I affixed additional Mesquite bark to the interior to assist fledglings in their climb out the entry hole, hinged the top, used scored beach glass on the sides to allow a bit of light to the interior, added a few saguaro ribs for trim, found rusted spring for human interest, added a decorative spar.
The box itself is composed of a 5/8"-solid oak front, and 5/8" pine sides, back and roof.
A piece of hundred year old galvanized metal I found in the desert weatherproofs the roof.
In February, 2010, her husband, Doug, is making a short journey, at which time he'll take the box to its rightful place among the hills of the Central Coast, where-- if all goes well-- Acorn Woodpeckers will move in, raise a family and help repopulate the species.
Join in and write your own page! It's easy to do. How? Simply click here to return to Birdhouse Invitation.
Yellow Cottage Birdhouse
by Steve Guenther
(Sunman IN)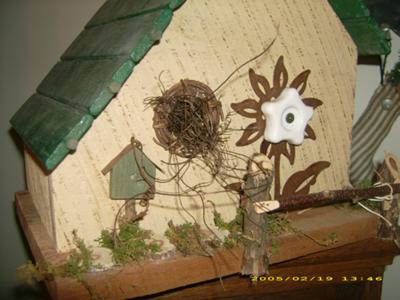 Yellow Cottage Birdhouse
We enjoy creating one of a kind bird houses and other garden related items from found items that would probable have been discarded in the trash.

We have been told that we have a way at visualizing items in a different way. That is a true compliment.

This cottage birdhouse is made from rough cut cedar. The roof is the slats from an old green shutter.

The flower is a handle from a faucet. I cut thin pieces of cedar for stepping stones and hot glued green moss between them.
I have been asked. "Of all the birdhouses that you have created. Which is your favorite." I always answer.
My next one.
Thank you for viewing my creation and for your comments.
Join in and write your own page! It's easy to do. How? Simply click here to return to Birdhouse Invitation.
Barn Birdhouse
by Joanne Reeves
(Auburn, NY)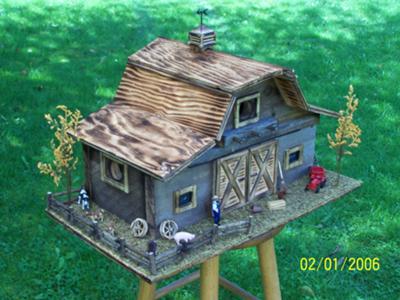 This is my second birdhouse, I made this one out of barnwood that I'm sure is very old. But that's what I like about it. the more rustic, the better. It just has the real country charm feel..
Out In The Country Birdhouse
by Joanne Reeves
(Auburn, NY United States)
log birdhouse in the country
I had this desire to have a birdhouse in my yard, but I didn't want just an ordinary birdhouse.

I didn't go out and buy one because sometimes you pay a lot and end up with just ho-hum and ordinary.

So, I went to work designing what I liked, and started building. And, well-la...a birdhouse was born.

I started on paper, just did a quick sketch. With a few pieces of scrap wood I had left over from a building project, is where the sides came from.

I went to a garage sale, and bought a box of craft items really dirt cheap.

That's where I found the shake shingles and little odds and ends you see on the front porch.
I made the chimney from small stones I got out of a nearby lake.
I had so much fun doing this project, that I now bought a table saw from a garage sale, that I know will help me out on my next bird house, that's right, my next one, that I plan to start pretty soon.
I would even like to continue making different styles. Who knows, maybe start my own business....that would be super!! I really enjoy it...
Cottage Birdhouse
by Sandra
(Rochester NY)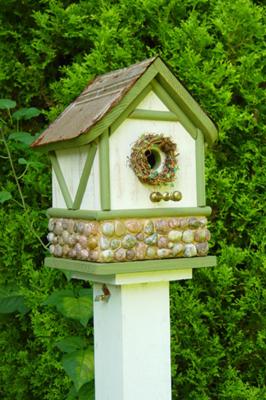 Cottage Birdhouse
This is a birdhouse I made from cedar and added stones picked from the beach to the bottom half to look like an English cottage.

I cut and painted dowels for the decorative edging and used old ceiling tin on the roof. The perch is a lamp finial and a small grapevine wreath with beads on a copper wire finishes it off!

I love making birdhouses and using old "stuff" to decorate them like doorknobs, old metal and lamp parts.

I sell them once a year at a garden show and hopefully have made a lot of birds happy!

Join in and write your own page! It's easy to do. How? Simply click here to return to Birdhouse Invitation.
Log cabin bird house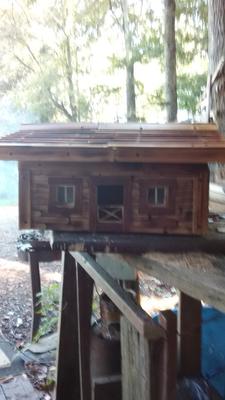 I always loved birds starting when I was a child.

I remember my stepdad telling me how to catch a bird. "Just put salt on its tail," he said. I never got what it meant until later in life that it was impossible.
Now I just build bird houses to have something to do. The idea for this birdhouse just popped in my head one day so I built it.
Join in and write your own page! It's easy to do. How? Simply click here to return to Birdhouse Invitation.
Log Cabin Style Birdhouse
by Bob Fann
(White Pine, Tennessee)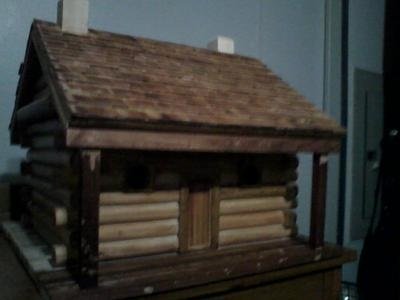 I have been woodworking almost all my life and I also enjoy the aspects of nature being from the great smokey mountains in Tennessee.
I started working at a wood products factory a few months ago and after a few weeks there I noticed that a lot of the scrap they throw away could be used for other things.
So I started asking if I could have the scraps and it led to me building this birdhouse.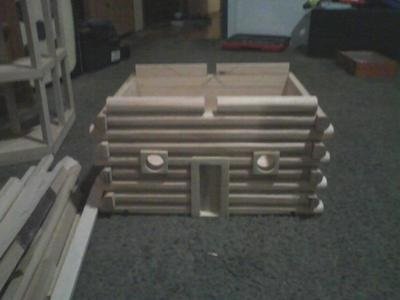 Steps to Building Log Cabin Birdhouse
The house is made of 3/4 by 1-inch hickory which was glued and brad nailed together.
The roof was made of the same material but was ripped down to a 1/4-inch thickness.
The shingles were made by taking leftover scrap that was a 1/8-inch or less in thickness and cut down to 1 1/4-inch pieces and individually placed.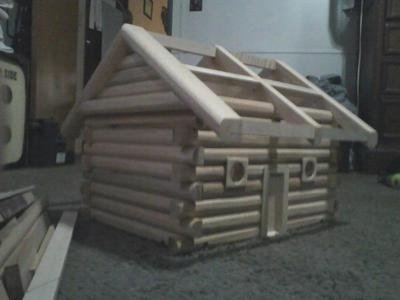 Also, the floor and the roof are both removable and are held in place by wood screws.
This will allow for trouble-free cleaning.
I think it turned out fairly well and I have plans on building more.
Hope you enjoy it.
Bob
Tennessee
What Do You Think of the Log Cabin Birdhouse? Comment Below
Jacks Rustic Birdhouses
by Jack Gardner
(Jackson, NJ)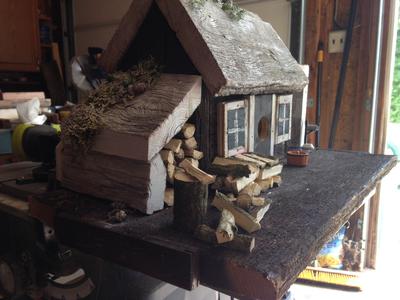 Rustic Birdhouse
After I retired as a trucker after 35 yrs I started to make some rustic birdhouses.

I have been making them out of old horse fence.

I just let my imagination take over and they come out pretty cool.

I even sell them at flea markets & craft shows.

Moss and Pine Needle Birdhouse
by Judy
(Grass Valley, CA)
Birdhouse Covered with Pine Needles and Moss
I have been making these types of birdhouses for 6 years now and find that they attract all kinds of birds from the wrens to the bluebirds.

I also found they blend into the natural surrounding of nature very well.

They have a drop out floor for easy cleaning and also I spray them with a non-toxic urethane coating so they can stay outside all year.

This is one of the smaller sized houses, it measures 4x4 floor 8 high and the 1 inch hole placed 3.5 from the floor.

I decided to cover this one in a bright green moss and use pine needles for the roof.

Then for the decorative touch I add split pine cone's around the entrance hole.

There is not a perch for predators to get a hold of and ravage the nest, but do not worry the birds come and go with ease.

Join in and write your own page! It's easy to do. How? Simply click here to return to Birdhouse Invitation.
The Lazy Day Saloon
by Doug Bronson
(Minneapolis, MN, USA)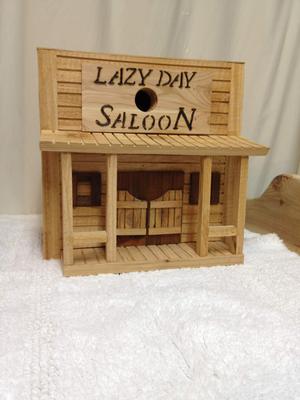 The Lazy Day Saloon (front)
I've been building birdhouses for about 2 years now. My typical birdhouse is made of cedar.

I buy cedar fence boards from Home Depot choosing the most interesting pieces of wood. Sometimes I sand the wood smooth and sometimes I leave it rough.

Although most are made of cedar, two of my previous birdhouses were made of pine.

I built them to look like real houses with porches, railings and all. One even had a woodpile.

I use small hinges to create working doors for cleaning out the old nests.

Sometimes the roofs open up. Sometimes I put the doors on the side or back.
The Lazy Day Saloon is modeled after an old western store front. I cut slots in the wood to simulate boards.
All birdhouses have at least two coats of outdoor poly on the outside.
Lazy Day Hotel
by Doug Bronson
(Minneapolis, MN, USA)
Front view
Welcome to the Grand Opening of the Lazy Day Hotel. Amenities include 4 large rooms and large front balcony.

Some rooms include a private veranda. Conveniently located within walking distance of the Lazy Day Saloon.

Rooms are available on a first come, first serve basis. Both the saloon and hotel are bird friendly.

The Lazy Day Hotel is made from cedar fence boards. There are four chambers for the bird nests.

The two front chambers are accessed through the upper porch and two rear chambers are accessed from the sides.

Both sides of the roof are hinged and can open for easy cleanout.
The front porch: I love how the doors turned out. They look almost real. The barrel is fun too. The appearance of individual boards on the doors and the barrel is made using a wood-burning tool.
The balcony: I like the texture of the floor in this picture. I also like the design of the door with the diagonal board.
If you watch old westerns you see this design a lot.
And finally, the individual verandas are decorative but also act as a perch for the birds. Birdhouses by Bronson Woodworking, Minneapolis, MN
Join in and write your own page! It's easy to do. How? Simply click here to return to Birdhouse Invitation.
Lazy Day Livery Stable
by Doug Bronson
(Minneapolis, Minnesota)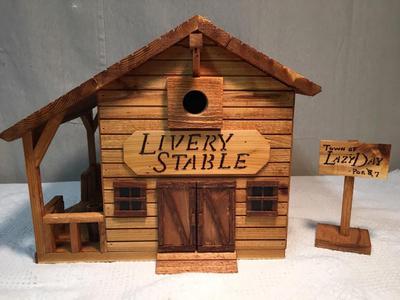 Lazy Day Livery Stable
I'm an old west enthusiast. The Lazy Day Saloon and Lazy Day Hotel were my first two pieces.

Now I've created the Lazy Day Livery Stable. My intention is to create a whole block of old west buildings in this style.

I use cedar fence board for most of my birdhouses. It's inexpensive, pretty, and easy to work with.

For the walls and roof, I glue two pieces together. I score the pieces with my table saw to look like boards. I use both glue and brads to assemble the parts.

I think that adding the details, i.e., windows, doors, benches, etc. is my favorite phase in creating the projects.

I try for authenticity and spend considerable time searching the Internet for pictures. See Birdhouses by Bronson Woodworking on Facebook.


Join in and write your own page! It's easy to do. How? Simply click here to return to Birdhouse Invitation.
Cozy Cabins
by Doug Bronson
(Minneapolis, Minnesota)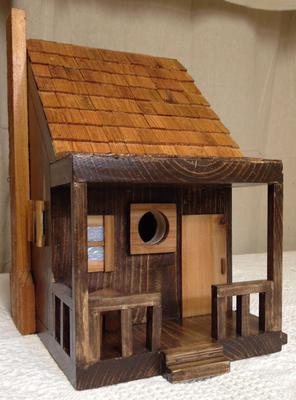 I tend to make three different styles of birdhouses. The first and easiest are the simple cedar birdhouses. They are fairly easy to make and sell pretty well.

The second style is my old west buildings. You can browse this website for the Lazy Day Saloon, the Lazy Day Hotel, and the Livery Stable. My intention is to create an old west street.

My third style is the cabin. I make these out of pine with cedar shingles. I like to experiment with stains that make the wood look old and somewhat distressed.

The cedar shingles and glass in the windows make these a cozy home for your favorite back yard birds.

Join in and write your own page! It's easy to do. How? Simply click here to return to Birdhouse Invitation.
Rustic Rural Birdhouse
by Kal Polgar
(Mulmur Canada )
Rural Birdhouse
The bottom of the birdhouse slides in and out for easy cleaning at the end of the year. It Is held in place with a piece of dowel.

I made the long backs so that they would sit on top of fence posts or the sides of trees for easy attachment.

cheers Kal Polgar