Hanging Basket Robin Nest
by Jennifer Strano
(Lake Grove, New York USA)

No sooner had I brought home and hung the fuschia basket did Mrs Robin begin construction.

I went to water the plant 36 hours after I placed on the porch while talking on the phone, and was surprised by her startled chirp.

She had already begun the first layer and worked fast over the next few days. The porch faces WSW, and is near the weeping cherry tree planted in the corner bed(I live in Suffolk County Long Island).

She has often perched on the top branches to broadcast her irritation with me or other interloper.

In my ignorance I thought she'd abandoned the nest after she finished because she didn't return for nearly 3 days.

The plant was suffering so I removed the nest, put it in a plastic bag and even let my 7 yr old bring it in for show and tell!!

Next morning, I went to water and pinch the dead flowers, and was shocked to see one blue egg sitting in the naked dirt. I felt like crap!

I quickly returned the nest to the basket, laying the egg carefully back in it. I hoped for the best.

Over Mother's Day weekend she laid 3 more eggs! The whole family celebrated.

I cancelled play dates for fear of further disturbing her, forbade my children from running up and down on the porch, and have checked on her through the window every hour, waiting until the moment arrives.

She hardly ever leaves the nest except to eat or defend her territory, which includes the neighbor's front yard across the street.

My children all scrunched down on the sofa (7, 4, & 2 1/2) with me and watched her tend to her nest, lifting up "skirt" to check her eggs, and settling back down over them all fluffed up, ever watchful.

I figure they should hatch by the end of this week(5/22)or the beginning of next. I will post pictures!

Join in and write your own page! It's easy to do. How? Simply click here to return to Robins.
Hanging Plant Robin Nest
by Melinda
(Conway, AR)
3 out, 1 to go!
This is the 4th nest laid by Robin's in my hanging plant. The first nest built was done so during a very stormy season.

The wind blew the plant so hard the nest became loose and the eggs fell out. Two other nests followed, but the birds weren't too excited about my front door opening and closing so much so they left without laying eggs.

These babies hatched about 5 days ago. I have loved watching them get bigger. The adult Robin doesn't stay on the nest much anymore and it makes me nervous that they will be abandoned.

They are very cute.
Join in and write your own page! It's easy to do. How? Simply click here to return to Robins.
Hanging Plant Robin's Nest...Part 2
by Melinda
(Conway, AR, USA)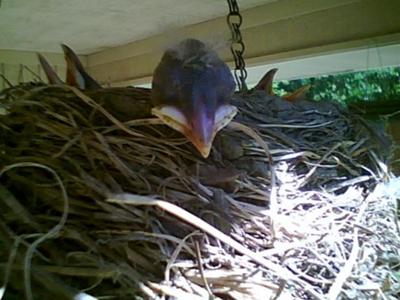 Little Baby Robin
Here is a close up of one of the babies. So cute. They raise up and hang their little heads over. The mom is still returning and seeing to them. I had worried at one time she had abandoned them.

Today, I watched her feed them. It really is fascinating to me. I can leave my front door open and the nest is there right outside the screen door so I can just sit and watch. Granted, the poor plant is dying but it is worth it to watch these little birds grow. I am hoping when she gets ready to teach them to fly, they won't fall out on my concrete porch and get hurt. Any suggestions on how to prevent this?


Hanging Begonia Plant
by Richard
(Montrose, New York)
We had hung a begonia plant out on our deck and everyday noticed that petals were suspiciously falling off along with some stems. My wife also noticed a bird flying away every time she opened the door to the patio.

One day, my wife stood up on a deck chair and noticed a nest in the begonia plant with two blue eggs. We also heard a rather irritated bird chirping (rather yelling) out in the woods and figured that the bird was upset we were near her nest.

To make a long story short, upon further observation we noticed that there were 3 eggs in the nest and tried not to upset the mother robin whenever we were around but rather enjoyed her company through the window of our closed door.

After reading this site, we suspect that the eggs will hatch any day now since we first noticed the nest approximately 10 days ago. We have also named the robin, Becky, (sort of a nickname since she lives in a begonia plant!) and will keep you updated when we hear "little chirps."
Flower planter surprise
by LouAnn
(Commerce twp Michigan)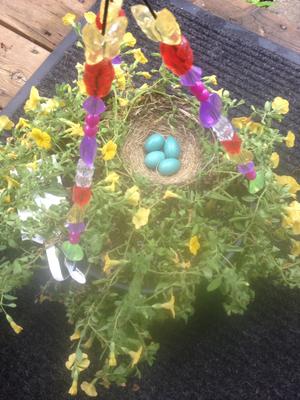 My flowers were dying and discovered this surprise.
My hanging basket was looking bad and I had my husband take it down to see the problem. Later on we met the mama. I called her Lucy. The nest was located up by the only door we use and she would fly out when we would come and go except for one time.

It was during a horrible storm. Lucy hunkered down and stayed put. We met the babies and now as of this morning the last one flew out of the nest and is in our back yard.