Robin Umbrella Bird
by Ivy Sciandra
(New Paltz, NY)
Every spring a Robin tries to build a nest in our deck umbrella.

As soon as I spot the behavior, I take the nest down and feel like a real creep.

This year, they were relentless.

If I took down the twigs and sticks, they would just come back. If I closed up the umbrella, they started building on the chairs! Finally, I gave up.

I now have a robin's nest on my deck.
Matilda is very busy sitting on her eggs, however, I can't go outside!
Luckily we have a week of rain forecast and we will be going away for the weekend. I am hoping that we have babies when we get home.
I have lots of trees in my yard and every year I accidentally come upon at least 3 or 4 nests in the spruce trees.
I get all excited watching the eggs or the babies, then have my heart break when either the eggs or the babies are gone.
We have lots of snakes, squirrels, foxes, etc around here.
I think Matilda's babies will have the best chance of survival in the umbrella on my deck.
However, I can't have this behavior continue. I really do enjoy sitting out there in the spring and summer.
Last year I stuffed balloons up there and I have also tried aluminum foil.
Is there anything I can do to deter the nest building on my deck?
I do love the birds, but they don't pay rent!
Robin Nest Under Patio Umbrella
by Robin
(Ridgefield )
Out my porch and to my SURPRISE I was witnessing a Robin making a nest under my patio umbrella!!

I couldn't believe it and thought how clever of her not to have to deal with the wind or stormy nights.

Within a few days, I climbed up on the table to peek in and spotted 4 baby eggs.

After a few weeks, 3 birds had hatched minus one which the Robin then removed.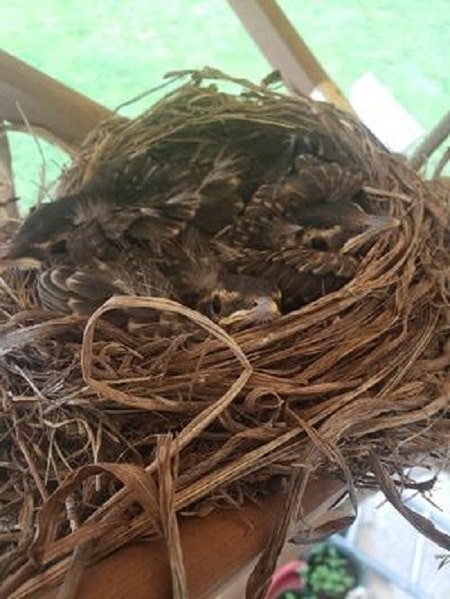 The babies are getting big and I have enjoyed holding them I enjoy holding and petting them I even helped feed a worm or 2 to one of the birds that gets left out.
Mom doesn't attack me at all I sit and take turns petting them in hopes that when they get bigger they will feel comfortable around me.
Join in and write your own page! It's easy to do. How? Simply click here to return to Robins.
Patio Robin's?
by Wendy Doucette
(Charlotteown, Prince Edward Island, Canada)
I thought I would enjoy my coffee on the patio Saturday afternoon (May 9th) but ended up spilling it when I opened the door and stepped out.

A Robin flew out from under our deck umbrella and not knowing what it was at first, it gave me quite a scare!

I noticed a mess of twigs and grass on the glass table and then looked up to find the beginning of the nest under the umbrella!

I called my husband at work, he said, "I thought Sydney (our four-year-old daughter) made that mess! He hadn't looked up :)
I watched for a bit on Saturday with my camera ready but no luck.
So Sunday (Mother's Day) I watched for her and figured out...if I keep the blinds down on the window (in the laundry room) and just stick the lens through I wouldn't scare her away :)
It worked. I ended up getting some photos and video of her in the nest.
I love watching her build and I don't want to disturb the nest but does anyone know how long they stay?
Weeks or months? We would like to use our deck this summer when the warm weather hits :)