Rescued Baby Dove
by Shirley
(Corpus Christi, TX)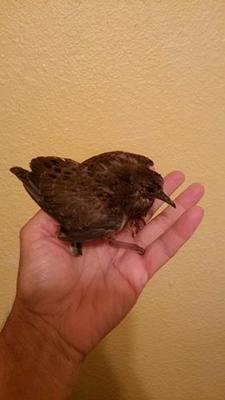 Maybe 9 days old here
When I got home from work on my street (in the middle of it) was a baby bird.

I saw instantly it was a baby Mourning Dove.

The parents as far as I could tell were no where around. I scooped the baby up and took him home with me.
I have hand fed a couple of baby birds, but not a Mourning Dove. He and I are still working things out on how I should feed him.
I try a little bit from a spoon, yes even from my mouth, (I purse my lips together and he gets the baby food). I am feeding him Gerber's baby food.
After I try letting him eat on his own, I am sure to get the syringe out and feed him that way to be sure he is getting enough.
I have had him a full 7 days tomorrow. He's doing great.
Now when I get him for his feeding, he has started to slowly flap his wings; I think we are bonding.
I am still undecided as to weather or not I will release him into the wild.
I know that there will be potential of him not surviving on his own.
Something I still have time to think about.
No, I have not named him as that solidifies my keeping him; I will do that if I should decide to keep him.