My New Wren Neighbor!
by Colleen
(Medfield, MA)
First attempt at getting a large stick into the birdhouse!
Today, a hot day in early July, I looked out my back door and noticed some activity around the little white birdhouse that hangs from a tree.

This birdhouse is relatively new to my backyard. I received it as a gift this past Christmas, and it was hung outside in early Spring. It is truly the new house on the block!

I grabbed my camera noticing something flickering about the opening on the birdhouse, and sure enough a little wren came flying out. A short time later it returned with a rather long stick in its beak.

I watched as it gingerly maneuvered the end of the stick into the opening. The little bird followed this by climbing into the birdhouse again; I assume to architecturally arrange the stick and then out it flew.

The next sighting was only a minute or so later, and once again this wren had a rather long stick. This time he wasn't as successful and as he was attempting to put the end of the stick into the birdhouse, it fell. Off he went to get another.

At one point the little wren just sat on the roof, obviously making sure it was a good roof and looked around the grounds making sure it was landscaped to his liking, I assume.

I am excited to see this new little friend whom I've named Christopher (after the famous architect, Christopher Wren) and I am anxious to watch his journeys back and forth as he makes his nest.

I am hopeful that his mate will want to settle down and raise a family in our backyard. I'm happy to welcome them to our neighborhood!
Join in and write your own page! It's easy to do. How? Simply click here to return to House Wrens.
Wren keeping us away from the bird house
by Frank Ferraro
(Wyomissing, Pennsylvania)
House Wrens ~
We have a bird house in our yard, hanging from a tree. We noticed these little birds coming and going; and lots of chirping inside the little house. We are now not permitted to get near the bird house, and even the corner of our yard. The wren's chirp and chirp as we get close to the house. It is fun to watch them.
Join in and write your own page! It's easy to do. How? Simply click here to return to House Wrens.
More House Wrens
by Frank Ferraro
(Wyomissing, Pennsylvania U.S.A.)
No place like home ~
Just got some pretty good pictures of our Wren family.
Join in and write your own page! It's easy to do. How? Simply click here to return to House Wrens.
Baby Wren
by Frank Ferraro
(Wyomissing, Pennsylvania, U.S.A.)
Waiting to leave the house ~
Sadly, Our baby wren didn't survive. When it tried to leave the nest, it just dropped to the ground. It only lived for a few hours more.
Join in and write your own page! It's easy to do. How? Simply click here to return to House Wrens.
Wren in Husband Boot
by Eleanor Bailey
(West Memphis, AR)
This is the first time we have encountered this pretty little bird.

We were shocked to find this bird flying around in our garage and finally saw her go into my husbands boot on the shelf.

As we watched them they were bringing twigs in and finally saw her not coming out. We realized then that she was nesting.

We would close the garage door at night and in the morning she would be flying around wanting outside. She would stay a little while and
back on the nest she would stay.

Don't know how long it took before we saw as she left one morning that there were three eggs. She would come back and stay during the day, and we would watch her leave several times then when night came, we would close the door.

Finally the eggs hatched and we would see both of them bringing food to them. This was a continuous effort on both of them.

Then one day she was calling for them as she was all over the garage, moving around trying to get them to come out, which took several days.

Finally one jumped onto the top of the boot and stayed awhile before moving any further. Finally it flew to the ground. He stayed awhile before leaving the garage.

It took several more days before the other two left.

This has been about five years now, I do remember four other places in the garage where they have built nests, but they were always behind something.

It is Jan. 18 now and for a month or so we have had two come into the garage at night, but don't know where they are staying.

We don't know if they are babies or parents but they keep coming back. If the door isn't opened in the morning they start chirping. We let them back outside and at night they are back.

We really like to watch them.


Wren Nesting in Roosting Pocket
by Tess Hutton
(Dorset UK)
I could not believe how near and open this wren had chosen to build its nest. We have had this roosting basket for two years and never had a bird even look at it.

Beginning of the year I moved it to where I could see it better in case we had a visitor.

Update now is that he now has a wife and Mr Wren is busy keeping her happy. We have worked out approximately when she will lay.

This photo took me about two hours to capture. It was a cold rainy afternoon but I stayed watching and waiting. I think you will agree that it was worth it.

I love taking the camera out to see what nature pics I can discover, at the moment my tripod is out side most dry days so this new happy family will get used to it. I shall be placing a chair out next.

Who knows, perhaps I will get that photo we all hope to get of our new family feeding and dare I hope for that first flight of the next generation of Wrens.

Hope you enjoy it as much as I enjoyed taking it and now looking and sharing it.

Tess Hutton
Dorset
Wren Nest Outside Window
by Mary Jo
(Bismarck, ND USA)
They built a nest in a craft show bird house lawn ornament I have hanging outside my window. When they first showed interest I was happy and surprised to think a real bird would make a nest in it. But hearing all the serenading by the male was a real treat and it still goes on. We are eagerly awaiting to see the new family.
Join in and write your own page! It's easy to do. How? Simply click here to return to House Wrens.
Amazon box condo
by Mary Tsoukas
(Ellisville, MO)
Mother's Day morning we were enjoying coffee and our normal view from our kitchen window. My husband was planning on grilling for me and we were looking at our grill, which if you know St Loius MO, was dusted with pollen which would need cleaning before enjoying any grilling time.

I stepped outside just to enjoy a quick morning ray and listen to the sounds of the morning. In fact I recorded some bird song with my iPhone.

When I came back in we were planning the menu and noticed a wren hopping around our grill. Suddenly it darted into the charcoal bin and back out again.

Didn't really take too much note as we have a lot of bird activity around our deck they seem to enjoy the posts. We frequently see Cardinals, Wrens and an occasional blue bird.

Looked back and saw our wren friend with a fresh load in its beak of dried leaves, disappeared into the charcoal again popped out and took off again.

Sure enough 30 seconds later back again and with a friend. We waited until they left and my husband went out slowly opened the charcoal to find a nest inside.

We really didn't want to disturb them but also needed access to our charcoal and grill. I went outside with a pair of tongs and was able to carefully lift the nest in tact and put it in an Amazon box.

I moved it about 2 feet from its original position. I felt so bad. We watched them return beaks full and no home. They looked around and left.

Well we didn't want to miss out on watching them and wanted them to have their home so I moved the box next to the grill, closed it more tightly and sure enough they decided it was home.

We have been watching the pair of them for hours. Amazon Condo is what we've named it. Still didn't grill, we just didn't want to disturb them.

Having too much fun watching them.
Join in and write your own page! It's easy to do. How? Simply click here to return to House Wrens.
Baby Wrens Fledged on Mothers Day
by Cindy
(Graham, North Carolina)
I have been watching the feedings and comings and goings of two Carolina Wrens that have a nest in a Gourd birdhouse that hangs on my front porch roof eve. The three babies came out of the nest on Mothers Day 05/10/2015.

Each went in a different direction, so the parents were going crazy trying to keep up with where they were. One of them went straight up into a shrub after coming out of the nest, and very quickly was jumping from limb to limb in the shrub.

Another one came out on to the porch and jumped on the edge of a rocking chair, and then clung to the edge of a window screen for a few seconds.

Does anyone know how long the parents continue to care for their offspring after they leave the nest? I usually see them together in a group for at least a few days.

I also observed that after the first one was out of the nest, the parent (not sure if Mom or Dad) spent quite a bit of time trying to make the other two come out. I guess it would be easier for her to deal with all of them out.
Join in and write your own page! It's easy to do. How? Simply click here to return to House Wrens.
My Wren's
by Brenda Segrest
(Florida)
Mrs Wren sitting on her eggs 6 2015
Each spring (my favorite season) my two wrens entertain me with their songs and choosing the perfect place to pair up and make their nest.

While staying home from work sick a few weeks ago I was lucky enough to have noticed Mr. & Mrs. Wren building a new nest in a bird house my mother had given me several years ago. Next I watch and saw that Mrs. Wren had laid 5 eggs.

Each evening I checked the nest. Some nights Mrs. Wren was out taking a break and hunting for food. This week Mrs. Wren has been on her nest each night when I've observed her nest (she watches me without fear as I talk to her and take pictures).

Any day now I expect the baby birds will hatch as it has been 22 days since the Wrens started building their nest. The actually hatching of the eggs should take place 13-15 days after the eggs are laid.

I'm getting excited to watch the babies after they hatch and start learning how to fly and search for food. Last year I was also lucky to have a Wren nest and see the eggs hatch and watch the babies learn to fly.

The picture I've posted is unique. Notice the script on the bird house.

House Wrens Fledging
by Doug Whelan
(New Braunfels, TX)
Many good stories have been told here about how House Wrens select their sites and about feeding their young and managing their relationships.

We had a nesting pair here in Central Texas this year and they were quite comfortable with us, our children and grandchildren being around them.

One of the pair came and sat right next to my hand and appeared more curious than frightened. I talked to him for a while and eventually he calmly flew away.

This nest is a fun part of the story. It was purchased at the New Hampshire Craftsman's Fair on Mt. Sunapee and failed to attract any birds in NH for three or four years.

For three years in TX it remained empty until this spring when an industrious male worked hard to make it habitable and a female came along and completed the job.

They produced five hungry and active babies and all was calm and cool until two days ago. I believe it was the male brought a grub and then he sat on the roadrunner's nose and sang his heart out for a few minutes.

He then went and looked in on the chicks for a few seconds and repeated the whole scenario all over again, repeating this whole procedure six or eight times.

For the next two days it was business as usual with the parents shuttling in and out to feed the brood. This morning, before I got to sit with them and watch their show, they were gone. Sorry I missed that bit of drama, but it has been a delight to have them in our backyard this spring.


Join in and write your own page! It's easy to do. How? Simply click here to return to House Wrens.
The Red Headed Wren
by Richard Allen
(Douglasville, Georgia)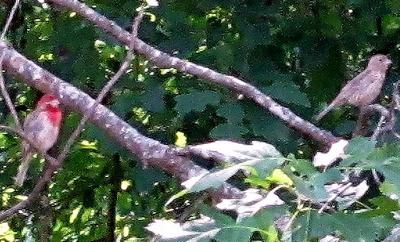 The Logan Wren and its mate
I have nesting in a bird house in my woods just to the back of my back deck a pair of Wrens. That is not unusual, however one of the Wrens, I suppose it's the male, has a red head.

I have named it the Logan Wren, because my great grandson is redheaded. I have a photo of the Logan w Wren and the mate.

You will notice that the Logan Wren has the coloring of a normal Wren except for its head that is red.

I have done a lot of research and the statement that comes up frequently is that Wrens are not brightly colored and one distinguishing feature on some wrens is the white eyebrow.

I suppose the Logan Wren is a freak of nature or maybe evolving a new species of Wren.

I have a total of six birdhouses in the patch of woods all hung near enough to my back deck where I can observe them from my back deck or even from inside my home.

I have posted these photos and more on my face book account as well as sent them to my friends and family. I am really excited about this as you might imagine.

Happy Birding to all

Little House on the Prairie
by Laura Carroll
(Woodbury Heights, NJ)
Ingalls Church
Just a few weeks ago two adorable House Wrens decided to take over this bird house which looks like a church in my tomato garden.

For weeks I could hear their chirping starting very early in the morning (5am!) and it lasts all day until it gets dark. They were very curious about this bird house which has been vacant for some time.

The birdhouse looks like the church in the Little House on the Prairie tv series so I've named the sweet couple Charles and Caroline Ingalls. Every day when I come home from work I would see their progress of building the nest inside of the church.

Caroline would wait patiently as Charles would fill it with sticks and such and one day I could tell she was inspecting it thoroughly and gave her approval because they both are in and out of it all day long.

My two Golden Retrievers seem quite interested in their activity and sit at the end of the garden at dusk each night and watch Charles and Caroline build their lives together.

The Ingalls don't mind their attention and work away happily in expectation of their new family which is soon to arrive. I just love Charles and Caroline and I am honored that they chose my yard as their future "home on the prairie!"
Join in and write your own page! It's easy to do. How? Simply click here to return to House Wrens.
A House Full of Wren Chicks
by Evelyn Johnson
(Brookfield, Wi )
Busgs, it's what's for dinner!
As I was sitting at my son's kitchen table, I noticed a small bird flying out of the bird house just outside their window. After planning a photo shoot, I settled into my lawn chair, my camera in hand, letting the little bird get used to me.

Every few minutes or so, this little bird would land on top of the bird house for only several seconds, then with another several seconds gone by, feeding her chicks. To my wonderful discovery, just before leaving, I saw three chicks peeking close to the opening.

The sun was on top of the house, with the opening of the bird house in the shade, making it a very challenging photo shoot. I mentioned to my son, to turn the house around for next year to improve my pictures.

I took over 1,000 pictures over two days, with the results not changing much. I use a Canon 7D, Mark ii, with a 100-400 and 1.4 extender, lens. Overall, a very fun experience for me.
Join in and write your own page! It's easy to do. How? Simply click here to return to House Wrens.