Move Over Hummers! Its the Verdin!
by Cindy
(So Call High Desert Mtns)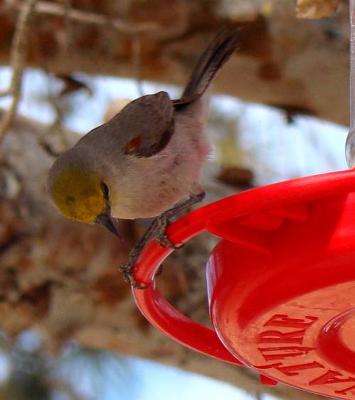 How does this thing work?
I cannot believe the different types of birds that will actually drink up the nectar from a Hummingbird feeder!

I was outside one day and heard unusual bird chirps, right above me. There on the Hummer feeder was this pair of tiny little birds I had never seen before. They were so tiny, just a bit bigger than the Hummingbirds.
My book tells me they are about 4 inches. Its name is the Verdin.
Boy were they all over that feeder till they figured out where the sweets were at. Once they found it they were drinking like crazy.
This picture is enlarged, so you can't really tell their actual size here.
Then like a little fighter Jet, came one of the female Rufous Hummers, darting down at them all around them almost to a DIVE right on them.
She wasn't about to share her feeder. I have a few different ones out there.. but this was this particular lil' Hummers favorite spot! And she wasn't about to share it!
Goodness, wonder what other fruit eater will visit our nectar?
Keep your eyes on your feeders!
And don't forget to clean them often. You'll have healthy birds staying with you all through the season.
And most come back to the same place each year, once they've claimed you!
Cindy