Mourning Doves On My Porch
by Marie Druck
(Windsor, Pa )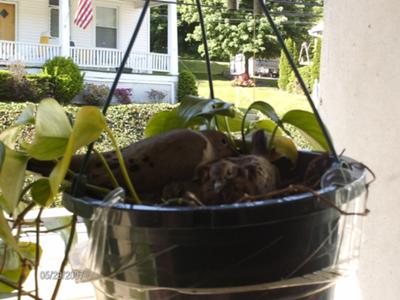 Basket Doves
For the last two years my family and I have had a family of
mourning doves
nesting in a hanging plant on my front porch.
My husband, kids and I enjoy watching them make the nest and raising their young. Its a great way to teach the kids about nature and how to respect it.
My family is not the only ones to enjoy it the whole neighborhood comes around to see what is happening with the doves.
The parents don't mind the interruption of people climbing on to a chair to get a better look, I actually think they like it. They have even allowed us to take pictures of them and their babies.
However we are all sad because once again it is that time of year for the babies to leave the nest and once again we are all suffering from empty nest syndrome.
Can't wait for next year!