Lucky, The Baby House Finch
by Sandy
(Canton, Georgia)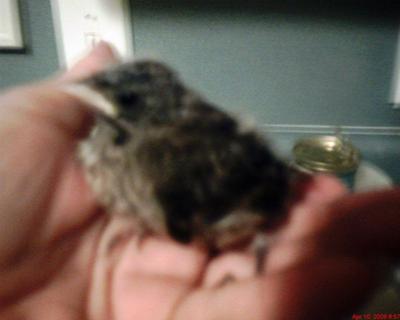 A few weeks ago I noticed a couple of little birds building a nest in a flower arrangement I had on my front door.

I looked at pictures of native birds and determined they were house finches. When the nest was finished it wasn't long before mother bird had laid 4 small eggs.
Just over a week after that 4 fuzzy little baby birds hatched. Then a disaster happened.
I was watching television one night and I heard a thud at the front door. I looked out the window and saw a cat, I immediately went outside and found the nest on the ground.
Fortunately I found only one of the babies; at first I thought it was dead as it was so cold but I brought it inside and put it on a heating pad.
It perked up quickly so I put it in the nest and got on the computer to find out how to take care of it.
I found out there was a formula for baby birds so I went to the pet store the next day and picked some up.
When I first found the baby it was only about 5 days old, its eyes were not open yet and it was almost bald.
Anyway I have been feeding it the formula and she ( I think it is a girl, she is so spunky) has blossomed. She's probably about 3 weeks to a month old now and is beautiful.
She is out of the nest and has all her feathers. She cannot fly yet and she should be weaned about now but I can't get her interested in seeds.
I am going to call the National Wildlife people tomorrow and see if they can advise me. Much as I would love to keep her I intend to set her free as long as I know she can take care of herself in the wild.
It has been a wonderful experience and I am so glad I saved one baby bird's life.