Hummingbirds Have Personalities
by Cindy
(Yucca Valley,Ca)
Of course, they do!

And it is such a gift to be befriended by them. Ever see one just sit and fluff up like any other bird, just listening to you talk?

I've been blessed by the visit of a pair of Anna's hummingbirds. Male and female.

I know this because the female is gray and green.

The male has a beautiful ruby-colored throat.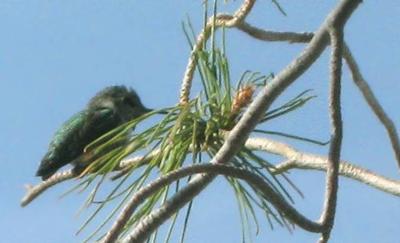 Since they have graced me with their presence.
I have been capturing unbelievable photos of these little powerhouses, in so many different settings. It's truly amazing.
Here I will contribute a capture of a little one, sunbathing, and listening to my greeting. I want to share all my photos!
They seem so happy when I go outside and talk to them!
They wait for me to come out, then buzz my head and perch on a branch near me and visit before getting to work on my California Fushia flowers.
So fun to watch and see their personalities.
In late November none the less!!
Cindy,
So. Calif. high desert mtns.