Nectar for all, I Guess!!
by Cindy
(HIgh desert Mtns. CA)
Who the heck are you?

Since early this spring, I've had many visitors at my Hummingbird feeders. Some of the nectar thieves can also be dangerous for the little Hummers, as some of the birds that eat fruit will also snatch up a Hummingbirds.

To avoid this, I have placed quite a few feeders around and spaced them out. And have also put out Orange slices in separate area's for those fruit eaters. We also have many HB flowers.

It seems to be working. But occasionally we'll still get a few, especially the Woodpecker that will come to the Hummingbird feeders.

This is a picture of a Hummer AND a Woodpecker fledgling together. Neither seemed bothered by the other! It was quite a site. I hope the hummers are careful, and watchful!

They sure seem to know when its safe to go to their feeders and when it isn't.

We've had more migratory birds this year than ever. They' re amazing to see.

Don't forget to clean your feeders! We sure are enjoying ours.

Cindy

Join in and write your own page! It's easy to do. How? Simply click here to return to Hummingbird Invite.
What An Experience Having 200 Hummingbirds
by Angel Romero H.
(Cusihuriachi, Chih. Mexico)
Last year I wrote you all about my experience with these beautiful birds. I said at that time I had over 100 Hummingbirds around and I wasn't exaggerating.

Well this year it's incredible, I feed them 9 quarts daily, which I start at 6:00 AM. And by the time I get home it's all gone.

I had to share this with my neighbors so they could help with the feeding. Now, they love it too!

I honestly can't count how many birds are around. I estimate it to be over 200!
Hummingbird Nest Photo
by John
(Cheraw, Colorado)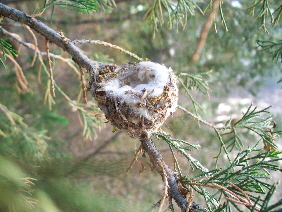 Last week when my wife and I went to the garage to get in the car, we noticed a small bird on the ground.

We immediately thought it was a baby bird that had fallen out of it's nest. After looking at the bird, we realized that it was an adult hummingbird that for whatever reason was in the process of dying.

We put the bird up in the tree so that the cats wouldn't notice it. Upon doing that we noticed a nest in the tree above where the adult bird was on the ground. The nest (pictured below) had three eggs in it. We were amazed by the nest and the tiny size of the eggs.

When we returned from our trip, we caught a quick glimpse of another bird on the nest. It immediately left when we came around.

Not knowing hummingbird habits, we assumed that the colorful bird that had passed away was the male and the bird on the nest was the female.

At that point we decided to do what we could for the mother on the nest. We bought a hummingbird feeder and premade food for the feeder and hung it in the area close to the nest. We have seen the mother use the feeder.

This occurred on June 5th, 2011 and the mother is still sitting on the nest today on June 12th.

My wife and I are totally adsorbed in this project of watching over this nest. We would appreciate any advice that anybody could give us.

How long will it take for the eggs to hatch; how long will the babies be in the nest and what can we do to help? We have been unable to get a good picture of the mother on the nest.

John
Moderator removed email address to prevent your email box being full from spammers


My Hummer Buddies
by Allyson Smith
(Batesville,AR,United States)
I feel like a kid waiting on Santa Claus in the springtime. When the first hummingbirds show up it's like getting up on Christmas morning. I'm always excited!

It's always a joy of nature to see the hummingbirds back home. Since the last week of August I've been putting out 9 gallons a week.
They have sure been on a feeding frenzy!

When I put out the nectar, I stand there and watch them as they fly all around me and even land on my shoulders and at times my head.

This morning I counted 42 hummingbirds. At one feeder there was 12! They were paired up at the feeder holes taking turns feeding.

What a blessing it is to share life with our hummer buddies!
Hummingbirds Caught In Snow
by Cindy
(California Desert Mountains)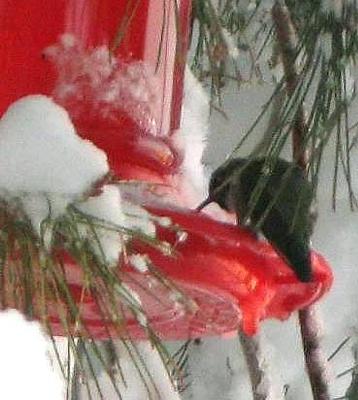 hummingbird feeding with snow all around
Feeding Hummingbirds in Snow
Worrying about the fact that my Fushia flowers were just about gone due to the changing seasons.
I hurried out and bought a hummingbird feeder, so my little visitors would not be without. Since the feeders weren't in season. I was worried that I might not find one, as fast as I needed one.
Fortunately, in the back corner of the store, I found the only three left.
These precious little hummingbird beauties were staying much longer than one would have expected, due to our "Cold" weather.
I worried so much about them when we had an unexpected snow storm.
I can't help but to think, that having this little bit of energy would assist them in making it to warmer places.
The snow stayed for a good week And then, was over.
The pair of Hummingbirds that had stayed with us for a few months in the fall, had held out just a bit longer.
After the snow had gone, drinking all they could get, they were on their way.
It makes one feel so good to know that just with a little effort, one can help sustain these little ones through their hardships.
I'm hoping I will see them again one day soon.
Cindy, So Calif. High Desert Mtns.
Hummingbird Rescue
by Marie Ford
(Fountain Valley, CA)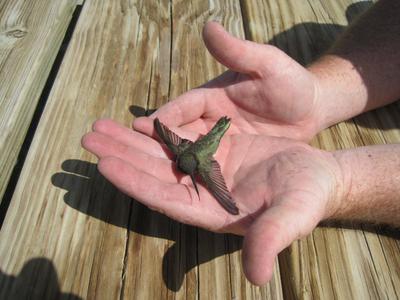 A few years back, after a gusty windstorm, my husband found a lifeless hummingbird on the grass outside our motorhome.

He felt it would be a neat experience for our young daughters to see a hummingbird "at rest" and up close, so he scooped it up in his hand and yelled for us to come see what he had found.

He was right, the girls were mesmerized. As I leaned in for a closer look, I saw the slightest movement of the eyes. Upon closer inspection, I could see a dry tongue sticking out of the end of the long, needlelike bill.

We quickly discussed what could be done for this incredible, delicate creature when my young daughter said "I know, Capri Sun!".

She had remembered the sugary sweet mixture we had mixed for our hummingbird feeder the year before, and felt that the juice drink would be a good alternate.

I quickly ran in for the necessary supplies- One Capri Sun, one teaspoon and my camera. The photos tell the rest of the story...
Join in and write your own page! It's easy to do. How? Simply click here to return to Hummingbird Invite.
There is a "v" in my beak.
by H. Kathy Hollick
(Lynden, WA)
Last Sunday a baby male Anna's Hummingbird found our saucer feeder and basically spent the day. He would take short flights to a tree near the feeder where Mom also seemed to be hanging out.

Around sunset despite many unsuccessful attempts by Mom to inform him that it was time to leave, baby stayed. In fact it was well past dark when he finally flew off.

We noticed that there is a "v" in the end of his beak. It is not a vertical "v" but rather a horizontal "v", as you can clearly see in the photo.

Since, he has taken up residence on the feeder and we continue to enjoy his visits.

Feb. 2, 2016

Lynden, WA
USA
Hummingbird Paradise
by Coquise
(Oklahoma )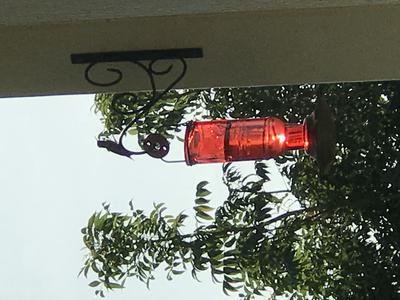 We started out with only 2 or 3 hummingbirds and only 2 feeders after about 2 months later we had 15 or so and bought 2 more feeders then July we had about 25 hummingbirds and now have a total of eight feeders around our patio !!!

I make the sugar water 4:1and they seem to love it !! What great entertainment they are chasing each other all over the place.

There is one that will come right in front of me where I sit and hover and just look at me for a few seconds and then the chase is on with the others !! Lol 😆Next year I want to look for some flowers they love and a solar fountain .

I think they will be in paradise then along with us sitting and watching them .
Join in and write your own page! It's easy to do. How? Simply click here to return to Hummingbird Invite.
Anyone knows why hummingbird sit still for a long time
by Elaine
(Pittsboro, NC)
What a surprise to learn about the Hummingbirds and the Taino indians. I am from Puerto Rico, one of the many Taino countries in the Caribbean and I will spread the word. In fact, in Puerto Rico we call them Colibrí or Picaflor. Well, now to my story:

I am living in the US for a while and I have put 2 feeders in my yard. They each have a 4' Papaya tree next to them. Yesterday, for the first time, I noticed one hummingbird with the white ring around the collar but no red on the throat, standing on the feeder very still. I watched it while I spoke on the phone with a friend and mentioned it to her. I spoke for approx 15 more minutes and that Colibrí never moved.

Then another showed up, drank, went over to the sitting one and said something, that was the only time I saw the first one move. The second one left and the first one stayed approximately half an hour and finally left. He came back and stood on a petiole of a papaya leaf, 5 minutes later it left.

I thought it was gone when it came back to the other feeder, stood on it and was there for almost an hour. I took a video and many photos from a very short distance, the second time from approx. 3 feet away and that bird didn't move at all. It looked like it was in a trance.

This morning as soon as I got up, I went to my porch thinking I was going to find the lifeless body of my little friend, it was nowhere to be found, I have not seen it today. I am wondering if it might have been a mom-to-be.

If anyone knows why this happened, I would love to hear from you.

Thank you, Elaine

Unable to upload video or photos
Join in and write your own page! It's easy to do. How? Simply click here to return to Hummingbird Invite.
Subscribe To Our YouTube Channel To See All Our Bird Videos!