Hummingbird Nest On My Patio!
by Darlene
(Scottsdale, AZ)
I have always loved hummingbirds, so having one build a nest on my patio is a real treat!

I have noticed a lot of hummingbirds around my Scottsdale AZ home this year, and for a special birthday surprise, I had one fly into my house ON my birthday.

I have never had a bird in my house, let alone a hummingbird.

I didn't think it would get any more exciting than that- but I was wrong.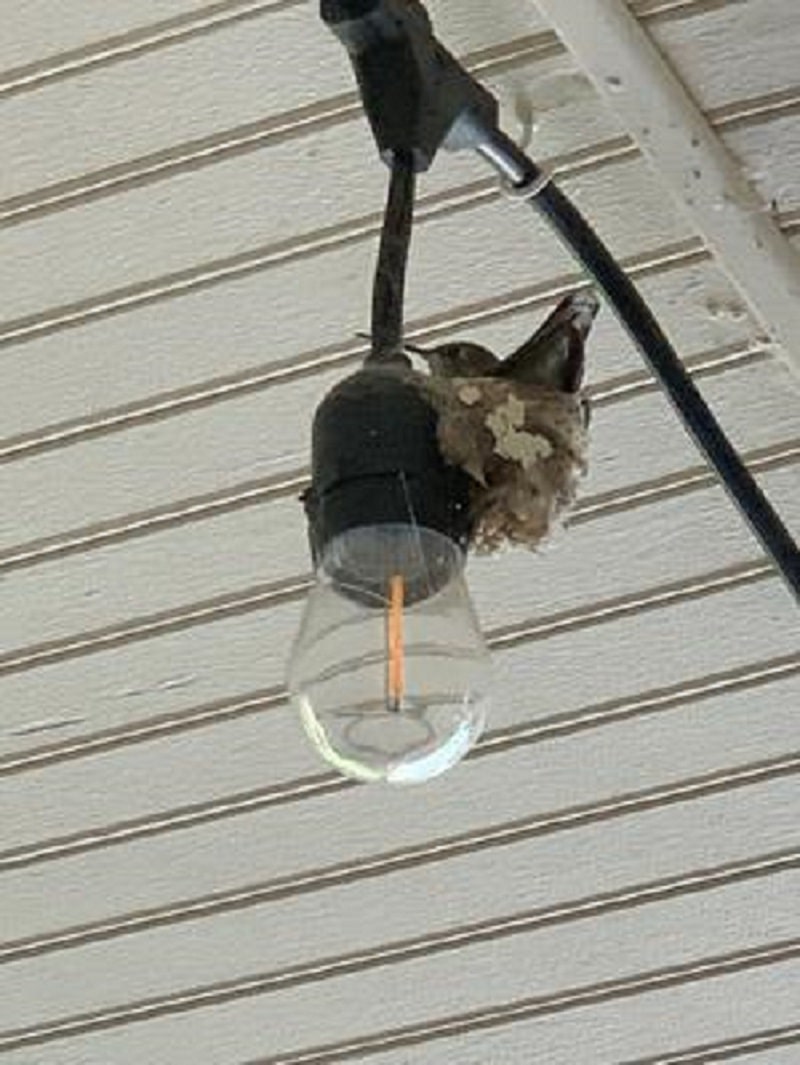 About 5 days ago I noticed a hummingbird sitting on what looked like a wasp nest on a hanging light bulb on my patio.
She seemed to be sitting pretty comfortably there so I decided to do some research.
That's when I found out she built a nest on my patio about 15 inches from my sliding glass door!
I have since put out a feeder that she took advantage of less than a minute after I hung it up.
She is pretty clever and does not fly directly between the feeder and her nest.
She spends most of her time in the nest and sleeps there all night.
I would love to peek inside to see if there are eggs in there but I don't want to disturb anything.
I am a little worried we are expecting some monsoons in the next week so I hope this nest is strong!
Hummingbird Baby on my Patio!
by Darlene
(Scottsdale, AZ)
Hummingbird Nest With Eggs and Chick
I posted a story earlier about a hummingbird nest on my patio and now I have some exciting updates!
Momma hummingbird laid 2 eggs that I was able to sneak a picture of 2 weeks ago.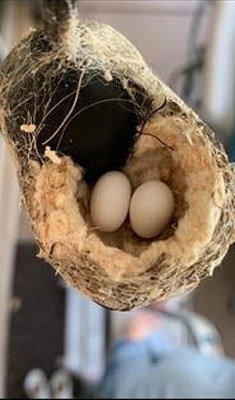 Then today it looked like she might have been feeding someone in the nest.
While she was away I took another peek today and look what I saw!
This has been a really neat experience.
I feel very fortunate to have had this close-up view of such a miracle.