My FirstBluebird Family!
by Lola
(Madison, MS USA)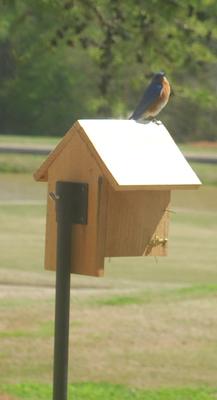 Burt
I live in Madison, Mississippi and had my first nesting pair of eastern bluebirds this last spring.

My husband and I have lived in this house for 15 months - I noticed a pair of bluebirds the first week we moved in (July 2013) hanging around the backyard.

They stayed all winter that year so we put up a birdhouse last March (2014) that was given to us as a wedding gift.

I was hoping, but not expecting, that the bluebirds would move in. They did! They claimed the house immediately and starting building a nest. We named them Burt and Bertha.

They laid two sets of eggs from the spring to mid summer, but none of them hatched. I noticed Bertha was building a new nest on top of the old eggs each time - so I decided to clean the house out in hopes that they would start from scratch. They did!

In July they laid their third set of eggs. I was praying the third time would be a charm and it was. They had 4 beautiful baby bluebirds.

I don't know why the previous 2 sets didn't hatch - I checked all those eggs before I cleaned the house out and they were all perfect. No holes or signs of predation or anything. I candled them and there was no development at all inside. Only fluid.

All 4 babies survived as nestlings and fledged and now it is the end of October and all are still alive.

They hang out with their parents and come to my bird bath every day. They even come to the birdhouse and go inside. Like they are learning the story of where they were born.

I'm hoping this spring we can add an additional birdhouse and maybe one of the babies will start a family in that one. The babies are 3 female and 1 male.

I have really enjoyed seeing them grow into their adult feathers. Their spots are all gone now.

I'm wondering how long this family will stay together? Is it common for the babies to stay with their parents for awhile? They stay very close to our backyard. We live on a golf course.

If you look out our back windows at any given time of day - you can usually find them. The only thing I've ever used to photograph them is my iphone camera - so my photos aren't the best.
My First Bluebird Family
by Joy Jones
(Boerne, Texas, USA)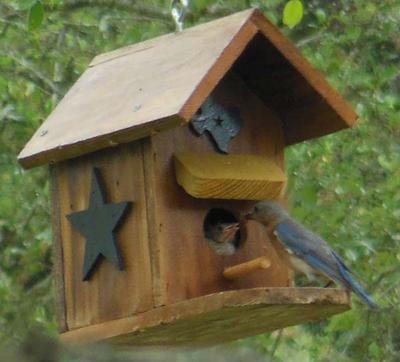 Mom Calling Baby Out
I have bluebird houses in several spots on my 5 acres. But, to my surprise, they chose this Texas cedar house that I had just hung, which was great, since I can see it from my kitchen garden window. I've seen bird nests before, but none so diligently guarded.

We have starlings this year and many, many other birds, but that didn't deter them. I could not contain my excitement. I had seen one couple each year for the previous 2 years, but they came and went.

I carefully watched their behavior and marked my calendar for specific events. The first was a blue egg shell below the bird house; then the male regularly arriving with food. Then, one chick appeared at the house opening with widely opened mouth when it saw the flash from my cell phone camera. I knew the 'first flight' would happen this weekend and I was able to see the entire event.

The chick landed very low on an oak tree and I was thrilled to see the male and female swooping back and forth above it, either trying to teach it to fly or trying to scare other birds away.

Today, one day later, it appears like they are renesting in the same box...no time to clean it. I even saw the young bird at the box once. The pictures chronicle the wonderful event.
New Bluebird Pair
by Harlan Wilson
(Murrieta, CA, Riverside County)
I am at Guard
OK. We have a "bird house" purchased a few years ago. The other day I saw a female bird going into the house.

I then saw her return twice until I then saw the Male arrive. He has a bright blue head and wings with a rust red chest. I have taken a few videos and captured a few photos from the videos. These are the first inhabitants of the house that we know of.

It is now April 10, 2016. The weather has been changing from cold to warm and back again for the last few weeks. Usually in the mid 60's to sometimes into the 90's.

We are not in a "cold" area and the city is at a 1,000' elevation. We live in Murrieta California, Riverside County, next to a golf course on the 4th tee.

We are on a small hill above the golf course and we have had many "song birds" etc. and many many hummingbirds. We have had a "lovebird" nest in a tree next to the house, a hummingbird nest also in a tree next to the entry way and a small bird nest (type unknown) in the rafters of the back deck cover.

We have two lemon trees that bloom about 3 times a year at alternate times thus giving us great food for the humming birds.

We really enjoy the birds and want to make sure the nest is safe. If someone could give us advise on protection issues it would be helpful. The birdhouse is on top of a 5' iron fence in the backyard and isolated from any close tree or limb.

We will send more photos and videos (if accepted) as soon as action gets better. Mom is really doing a lot of work bringing in the nesting material.

Interesting is the fact that the male accompanies the female to the nest, perches on the roof or a sign on the birdhouse and then leaves along with the female. Really fun to watch.

Enough now, more to come. Thank you, Harlan Wilson
First time for Bluebirds in Jax FL
by Debbie
(Jax, FL)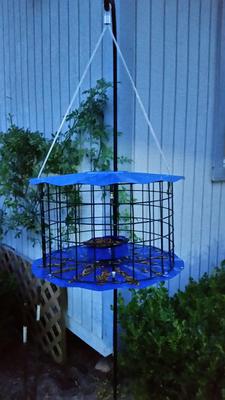 Bluebird Feeder
This was our first year of putting up a bluebird box. We attached it to the side of our backyard shed facing southeast. Within one week of putting it up a pair began making it their home.

I kept a calendar of the days mama bird was taking nesting sticks, etc. into the box. I marked when she began sitting on the eggs.

It was a lot of fun watching both parents go back and forth feeding the young. We put up a bluebird feeder filling it with dehydrated mealworms and sprinkled them on the ground. Both parents feasted on the worms and began taking mouthfuls to the babies.

They fledged the nest yesterday so I will miss watching them a lot but I feel the parents have the babies close by because they have returned to the feeder several times today. Maybe soon they will be bringing the little ones to the feeder and showing them where to get food easily.

We hope to have another brood soon since I have read they have up to three broods a year. If not another brood this year then at least next summer maybe they will return. It has been a real joy to study and watch them.
My First Bluebird. How do I keep them coming
by Rebecca
(Spanish fort)
Looked out my bedroom window this morning and this beautiful blue bird was sitting on feeder with a cardinal. By the time I got my phone for pic only the blue bird was still there.
Have plenty of cardinals, blue jays and two woodpeckers but never seen this blue bird before
Subscribe To Our YouTube Channel To See All Our Bird Videos!