Doves nesting on an Electric fan for Years.
by Mahmood Javaid
(Islamabad, Pakistan)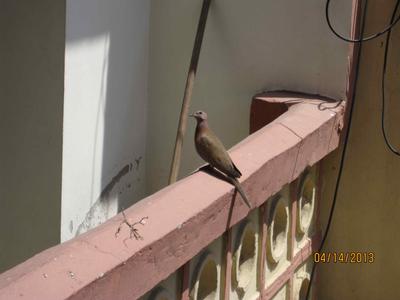 The Site Selection
I found this site trying to find some information about doves and learned so much about them here.

I didn't know they are called mourning doves as we call them simply doves here.
May be there are types of doves and I have no idea what type are these that I am going to write about and put some pictures.
I am not a bird watcher in the proper sense hence don't know proper names of some stuff relative to birds, particularly doves in this case.
For many years a pair of doves has put up a nest on a ceiling fan in terrace outside my room.
The nest is settled on the inner side of the one blade that joins the moving part of the fan, perhaps for stability.
Due to the height of the fan only nest can be seen and the doves landing and taking off.
We never tried to reach the nest closely, fearing of disturbing it and intruding their privacy.
We watched with great interest when a pair of doves started to build the nest here.
A dove would land around the house with a straw in the beak and when no one was around the fan, drop it and fly away.
We often saw 2 doves circling around but only one carried the stuff to make nest.
The nest was ready in few days and then we saw one dove sitting on the nest most of the time, perhaps during the day only.
Within days we would see signs of eggs from down below but could not count how many.
Next, one dove would mostly be seen sitting on the nest but sometimes both were there.
This was perhaps the hatching part as after many days we would notice 2 baby doves, so tiny and fragile that we always feared they may fall down.
It was amazing to see the parent landing and how babies inserted their small beaks in the open mouth of the parent while dancing around.
Within days the babies would grow and shuffle around the nest and small area of the fan blade.
Then we would see them flying out of the nest to nearby walls while one of the parent was around.
Then they would be gone and nest would remain deserted for sometimes.
After few months we would again see 2 doves circling around the same nest that we never disturbed.
As a matter of fact, we stopped using that fan since that first pair made it. We would joke with each other that we have new tenants in the house.
Same cycle would be repeated again while we watched with greater interest except the nest making part.
This cycle have been repeated many a times during last few years. Not knowing anything about doves we assumed that perhaps the babies that were hatched on this nest came again to lay eggs of their own and hatch them.
There was one incident when I saw a very tiny motionless baby fallen on the floor that was so fragile to touch but moved a little and I restored it back to the nest.
We were very happy when the parents took over and it survived.
In December 2013, we had the house painted and seeing that the nest had not been used for many months, removed it.
However, in January 2015 we again started seeing a pair of doves making a nest at the same spot from a scratch.
An interesting thing to note this time is that these doves lack the skill of making a good nest.
Sometimes It is hanging one side of the fan and even dropped on the floor once but I put it back properly.
I also noted the doves fighting on the day it fell but it was too short to take a picture. Another thing that I noted was the doves didn't use the nest for many days after I restored it.
Perhaps they knew that their nest had been intruded. As today they have started adding to the nest but there are no signs of eggs yet.
This time I am going to take more pictures of the whole cycle now that I can use them here.
I was able to make a good video of doves feeding their babies that I'll try to include link here.
I also hope that I would be able to add some more pictures of their current cycle as it happens, later on.
Link to the video I posted on my face book page.
https://www.facebook.com/video.php?v=10203511421373540&set=vb.1454234541&type=3&theater