In My Hanging Plant
by Roberta
(Tucson, AZ, USA)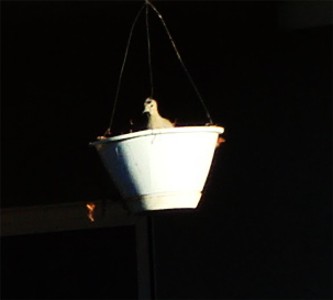 Nesting Dove
Yesterday, I noticed a dove nesting in my hanging plant, which hangs from the eave of my ramada, or outdoor patio.

Unfortunately, one of my cats noticed it, too. I'm all ready to tile my patio, but now will put it off once again.

I'm trying not to disturb them, but I have to go out into my back yard sometimes. For example, I have to take out the trash container tonight.

I hope they don't abandon the eggs, but on the other hand, I hope they don't keep using my hanging plant for a nest for future broods.

I guess this is what happens when you feed the birds over the winter.
Doves In Porch Plant Hanger
by Margaret
(Canada Ontario)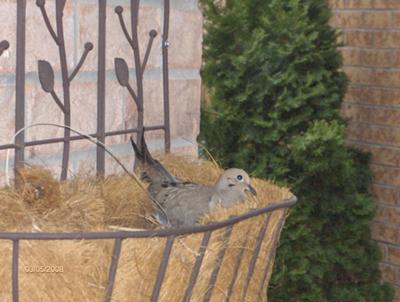 Doves Nesting In Plant Hanger On Front Porch
This dove is nesting on my front porch side wall.People are walking very close to that hanging planter and she (he)are OK with that. One small problem ; I can't plant flowers in this planter.
Join in and write your own page! It's easy to do. How? Simply click here to return to Mourning Dove Invite.
Doves Nesting In Fern Plant
by Autumn Sharp
(Louisville KY)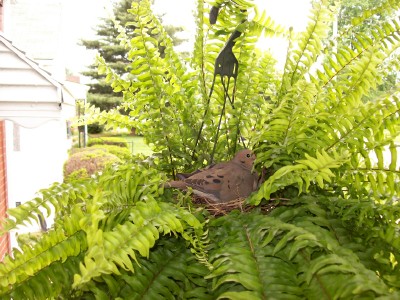 we will miss them
I noticed the nest a couple of weeks ago when I went to water my fern. Its at eye level, and easily seen.

I watched them everyday. They would switch places and seemed ok with the fact that I would have to water the fern from the side sometimes.

However, they have not been in the nest since yesterday. I hope that have not left there eggs.

It is looking like they have. I wish that I could have prevented this somehow. We were all looking forward to the hatching.

I looked at the eggs this morning and they have little tiny bugs crawling on them. What do I do now? How can I provide them a better spot for next time?

The Dove's are all over our neighborhood.
Join in and write your own page! It's easy to do. How? Simply click here to return to Mourning Dove Invite.
Momma dove and baby
by Bobbie Rouse
(Bristol,Tn)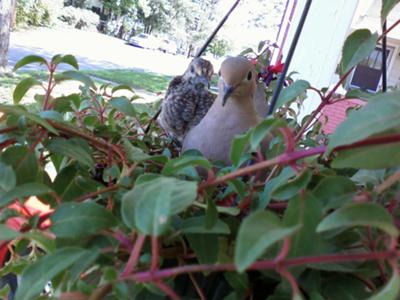 momma dove n ugly baby
I'm not much of a writer, but I do want you to see the picture of my dove and her baby. I found her when I poured a cup of water in my plant.

We scared each other to death. I didn't know she was there. lol. She and the baby flew off and I'm hoping they are fine.

This is my May dove and now I have a June dove sitting now, I'm waiting for my newest grand-doves to be hatched. When they do I'll send a pic of them.
Join in and write your own page! It's easy to do. How? Simply click here to return to Mourning Dove Invite.
Mourning Dove in Amaryllis Pot
by Wayland Jackson
(Fresno CA)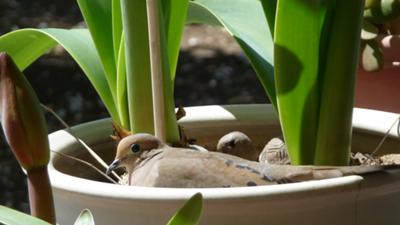 I watched a dove carrying a twig in her beak land on one of the amaryllis potted plants, about 3 - 4 feet off the patio level.

With some delight, I called my wife and told her I thought nest building was going on. She only carried a few twigs and took her nesting position.

When I saw a cat in our backyard, I ran across the patio clapping my hands like a wild man! The cat skittered for the wrought iron gate and disappeared.

We have five (5) bird feeders in our backyard, so we have found a few light feathers underneath one of them at times.

This mourning dove left the nest and I thought it would be a good time, so I put some seed on both ends of her nest.

Since the weather is getting warmer, I wanted to water that plant, but I feared scaring her off. Once I saw her two beautiful, little eggs!

With warmer weather, I began to worry about her getting food and water. What a relief to look on the internet and learn that she and her mate worked in shifts, one days, the other nights!

The bright red amaryllis plants in that pot are starting to open and the three pots altogether have seven stems coming up 2 feet tall and each stem has four trumpet like blossoms at the top.

I think the photo of the dove with the flowers will be pretty, but for the purpose of this note, I will attach a couple of photos of the nesting one. We have no named her/him yet.

From Wild-Bird-Watching.com


Never put food close to and especially in a nest. Doing so can attract predators to the nest. Birds will not starve themselves to hatch their eggs. Even birds that stay on the nest are fed by their mates.
Join in and write your own page! It's easy to do. How? Simply click here to return to Mourning Dove Invite.
Michigan Doves in Hanging Plant
by Kathy
(Waterford, MI)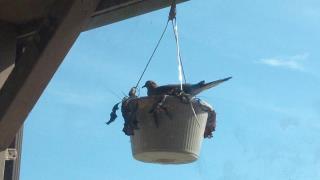 This (2012) is the 7th year that a set of Mourning Doves have nested in my hanging plant on my front porch. Yesterday (4/29/12) my daughter came and told me that she could hear doves cooing in our front yard.

I went to my shed in the back yard and got an empty hanging basket. I filled it with dirt and leaves. Within a couple of minutes, the doves were in the basket. I was so happy they were back for yet another season.

From what I have read, this pair may be the same birds that come back every year. Also, from what I have read, they usually lay two (2) eggs. This has happened every year.

I have two (2) daughters and they get so excited when the eggs hatch. We can see little tiny heads pop us as they are being fed. We follow the little ones until they "fly the coop".

Last year was the first year that my sister-in-law visited us and saw the doves on the nest. She thought it was so cool that we had found such realistic looking cement birds.

I had to convince her that they were real. She was shocked. They usually fly away for a bit when approached.

I don't know if it's possible that they know my voice, but I talk to them and they just lay in the nest.

Every year, I look forward to my longtime friends' return.
Doves Nesting 7 years in a Row
by Dannette
(Baton Rouge, La)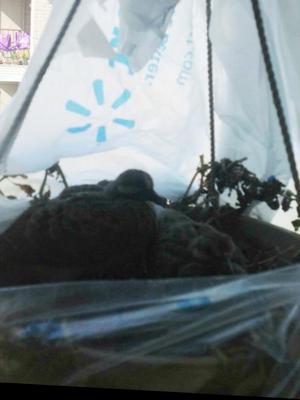 Firstly, to the lady that thought she couldn't say hello and sad because they left because she acknowledge her is simply not true.

I have to assume that I have the same mourning doves that come to nest (about 3 feet from my front door at my upstairs apartment) just because they feel safe to have their babies here for the last 7 years.

I now just don't plant my flowers and I just let the planter stay with a little dirt and they have returned every year to have 2 baby doves.

I say hello and speak to her every day and once the babies are born... Then I just have to peak in....I never interfered with nature but I helped her and her babies once.,, that was just to tie a plastic bag around the planter to protect her and the babies only because it was a really torrential rain and I was just a 1/2 inch from the babies when doing this and have attached the pics..,,they started to trust us and it was amazing.

I love to see how sometimes one of the babies just doesn't learn to fly as fast as the other... And before they all left one year... The mom and babies sat on my railing with the Daddy hanging out on the stair railing.

I have those pics but not on this IPad so I pulled a couple from my facebook postings.

I am sure the doves feel safe (safer than a tree with other wildlife to worry about and just know now that they have to trust my planter and my family.

We enter in and out to walk the dogs...etc)... I have yet to miss a year of the babies being born and always love the cooing.

I have been able to watch from my bedroom window the babies feedings and love the fact that they stay together for their whole lives (didn't know about mating habits until I had to look it up when they came back the second year).

I am always sad to see them leave
Join in and write your own page! It's easy to do. How? Simply click here to return to Mourning Dove Invite.
Mourning Dove In Hanging Pansies
by Nancy
(Mattapoisett, MA,USA)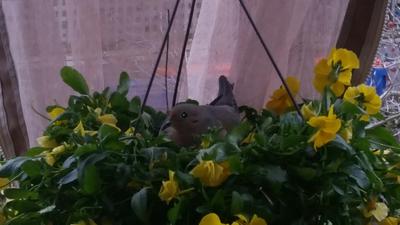 Mourning Dove in Pansies
Greetings from Mattapoisett Massachusetts!

Two weeks ago I saw a Mourning Dove in a new hanging planter of yellow Pansies on my open back porch which is covered by a large awning. She was clearly nesting.

This is a very busy area of our house, as we come and go from the back door which is accessed on the porch so I was worried that the bird might be disturbed.

We also sit on the porch throughout the day and our small Chi-poo, who has been recovering from a horrible spinal injury which left him paralyzed in his hind end, hangs out there while convalescing.

Through the kitchen window I have a clear view of the nest. As the two weeks have passed I have seen the male and the female doves swap out on the nest, usually mid-morning. The female flies off the nest, and the male waits on the porch rail and then flies up to the nest.

My Chi-poo has taken to lying under the hanging planter--he seems at peace with the birds and the birds with him. Could the birds be an omen for his successful recovery?

The doves have allowed me to water the pansy plant, and my family has not stopped our activity out there--last night we grilled up some ribs--the birds do not seem to mind.

I am a little bit concerned about the squirrels in the area disturbing the hatchlings when they come out of the shell. The squirrels are quite aggressive, and I saw one in the dogwood tree that abuts the nest yesterday. Why else would that squirrel be there?

We have enjoyed these beautiful doves so much, and we hope they stay with us throughout the summer if they nest again.
Join in and write your own page! It's easy to do. How? Simply click here to return to Mourning Dove Invite.
Love Doves in Hanging Planter
by Marge
(Loring)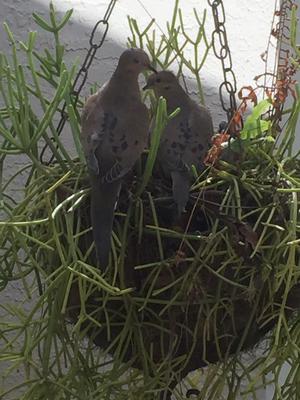 I have had several hatchlings in a hanging plant by my kitchen door. As the family grew they started nesting in an alcove over my front door.

The pair even went thru Hurricane Irma. I consider myself an honor these birds have chosen to raise there families at my home.

Tonight I went to check on my front door family and she doesn't seem to be moving. In the morning I'll check on her , my first failure. I have some great pics.
Join in and write your own page! It's easy to do. How? Simply click here to return to Mourning Dove Invite.
Doves in hanging planter
by Marvie
(California )
The day I discovered the nest
The day after returning from our spring family trip, I was about to water my hanging plants and suddenly something moved, and to my surprise, there was a dove nesting on it with 2 eggs.

So I haven't watered them ever since... good thing that they were succulent plants 😄.
Join in and write your own page! It's easy to do. How? Simply click here to return to Mourning Dove Invite.