Bird Books And Bird Field Guides
We Review and Recommend These Great Resources
When it comes to bird books and bird field guides, there are thousands to choose from that help bird watchers identify and learn all there is about birds.

With bird watching coming in second only to gardening as Americas favorite pastime, it's no wonder books about birds are flying off the shelf. (pardon the pun) A common misconception is that once you have one you don't need anymore. Bird names and families are changed more than you think and if your guide is fifteen years or older it may be outdated.

The following books and field guides offer information on bird identification with text and graphics, making it easy to identify the birds around you.

All of the field guides reviewed on this page cover only North American birds. These are some of my favorites and for different reasons. Some for those just starting out and others for the more advanced birder. Don't stop here, you may find something you like better at the link below.
Just Your State Birds
For most people, just having a book that tells them what birds they can find in their state is all they want. Everyone should have a copy of their own states birds. That way you don't misidentify birds that look similar to birds in your area but don't live where you do. It's easy to do if you don't know. Follow the link below and it will take you to a list of Stan Tekielas works. He has authored many books for each states birds and does really good work. I own the one for my state of Kansas. Here is the link: Your States Birds
The recommendations below offer individual guides that I've found helpful along the way of my bird journey.
Birds: A Golden Guide From St. Martin's Press If you are looking for a place to start, this is the one. Anyone who wants to be able to look up popular North American birds should have a copy. This pocket sized book is easy to carry in the field or backyard.
Are you someone who feeds the birds and sometimes wonders what bird is at your feeder? This little book is the perfect size to place next to the window where you watch birds.
Covering 129 of the most familiar American birds, with text descriptions of related species. The reader is able to identify more than 250 birds. Color plates help with identification. Range maps, and charts for migration times, nesting materials and more. This one is a classic and highly recommended for the beginner.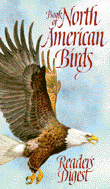 Book of North American Birds - Readers Digest With 600 species identified this is a life-time book, published by Readers Digest, a name you can trust. You'll find more than 450 of the 600 species in the Gallery Section, which is divided into eight groups according to type and habitat. Each page features a full-color painting, accompanied by maps and details of field marks, habitat, nesting habits and food preferences.






National Geographic Field Guide to the Birds of North America
The perfect field guide for the intermediate and above birdwatcher. This one has it all. Illustrations of both male and female birds. All known birds that breed in North America, and a few others. Over 800 range maps are included in this edition. One of the best to carry in the field or even the backyard. This is one of my favorites for drawings and range maps. Makes it easy to see if a bird is found in the area you're looking at.
Want More Options? Check These Out
See Also:
Subscribe To Our YouTube Channel
To See All Our Bird Videos!
---