WIngs in Motion
by Cindy
(Ca, desert Mtns.)
Hummingbird at Feeder
This spring has already brought me some of the most awesome and colorful backyard birds.
My favorite.. and probably most exciting, is of course, the MIGHTY little, Hummers.
They let me know they were back.. so I filled the patio with their feeders, until my flowers are up and bloomed.
And to my surprise. I am getting more this year than the last. Already!
Between the wrens, the doves, and the Roadrunner.. I experience how unafraid of humans, they are.
Sometimes, I am sure... that the Hummers, are just as inquisitive toward us, as we are towards them. It almost seems, that they would just land on your hand.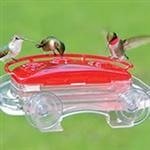 Gifts for Hummingbird Lovers
They seem to be ever so grateful that we treat them with the feeders.
I know last year, our feeders helped sustain the little helicopters, through a crazy unexpected snow storm, as they stuck the winter out long before they should have.
Last year we had the blacked chinned and the Anna's.
This time we also have the Rufous! Wonder what others will stop by and call our place home for the season?
What joy they bring me!
Get your camera's out everyone!
I know in this light, or picture, it is hard to tell for some.. but this IS a Rufous.
In other pictures I have.. it has dark rust colors under its tail feathers, on the chest and on the head and chin area, then the iridescent Green on its back.
I love identifying them.