Three Bluebird Houses and More Planned For Our Five Acres
by Ralph Pope

There are now three families of Eastern Bluebirds at our location here in northern Georgia, near Lake Lanier. They have been here for at least ten years.

We have their houses placed in trees about four feet from the ground approx. 100 ft. or more apart from each tree.

All of our Bluebirds are large and look very healthy with extremely vivid colors.
We enjoy watching them daily out of our large kitchen windows.
We have a
bird feeding station
right next to the windows, with seven feeders of all types.
All are handmade by my son Dan who has been interested in birds all his life. He is now 54.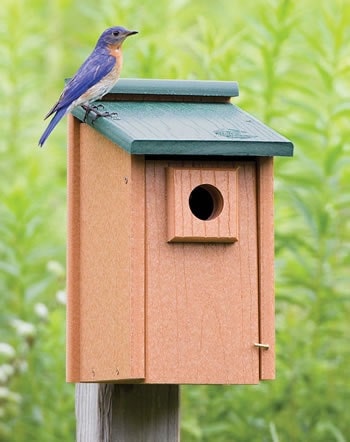 Woodlink Bluebird House
We have Woodpeckers, Brown Thrashers, lots of Cardinals,(Vivid Red males) goldfinches,
Indigo Buntings
, Chickadees, Titmouse, lots of Dove, sparrows of all types, Wrens, and many others.
In addition, there are two Hummingbird feeders hanging right next to the window.
They will arrive on April 15th every year and leave in October.
They are very aggressive and possessive of their feeders. They set for several minutes guarding what they think is their private feeder.
One thing we find odd is the Eastern Bluebird visits our bird feeders several times a day, setting on one of several posts among the feeders.
He will set there for ten or 15 minutes, leave and come back an hour or so later.
We are now building a feeder for the Eastern Bluebirds, but not sure where to place it among the other feeders.
In addition, there are several families of Mockingbirds that chase away the Squirrel's, pecking at them as they run away into the woods.
Even though they do not eat the birdseed, they seem to want to protect the other Birds.
We have to watch out for Hawks, and scare them off when they come near, once in a while they will dine on one of the Mourning Doves.
In the springtime, we observe some very odd behavior among some of the younger birds.
On several occasions, we have observed very young Sparrows feeding baby Cardinals that sit in the feeders crying with their mouths open, as they do in their nests.
This has happened regularly all spring.
For some reason, Male Cardinals will feed their female partners.
The female just sits there and waits for the male to feed her sunflower seeds.
Our Woodpeckers are some of the most fun to watch, both male and female.
The way they will eat upside down, or hang on and reach over to the seed.
More Magazine Choices For You