Doves on Garage Door Pictures
by Dan Marshall
(Baton, LA)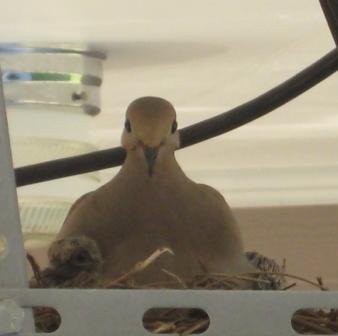 Dove on Opener
I have added a picture to go along with my previously posted story...

One day we were in our garage (California carport-door on one side/open on other), and to our surprise we saw a dove nesting on our garage door opener.
For the first couple days, the bird would fly away when we opened the door, but eventually she would stay put, only cocking her head to the side in response to the noise and shaking.
For several weeks we would come home and say "Hello Bird". My wife has grown quite attached.
She will constantly ask me "what's that bird doing?" "Do you think she's lonely?" "Is she cold?" My response: "Sitting" "no" and "We're in Southern Louisiana, I doubt ANYONE'S cold"
It is quite intriguing to see this bird sitting motionless for hours at a time. My wife checks on them every few hours when we're home.
Every morning she greets her/him, and every evening she makes me look out the door and bid them a good night. No chicks yet…
Surprise! I opened the door to head for my car and I notice something different. "What is that?" "Honey, I think we have babies".
My wife runs from the bedroom, half dressed, squealing like a child on Christmas. "Where, where?" Finally she sees the little brown head and black eye.
I grab the camera and take a few dozen pictures from a stepping stool vantage point.
Later that day I get an email from my wife with the pictures displayed like a proud mother. I almost cringed when I saw the length of the CC list.
Well, that's the story so far. It is kinda fun to watch…I just hope they don't mess up my brand new door opener.