Broken Nest Rebuilt
by John Orr
(Corona del Mar, CA)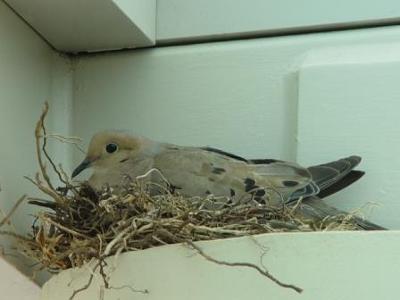 Nesting Dove
We recently found a mourning dove nest shattered on the ground inside our patio. It was obvious that the nest had fallen from a precarious position on top of a post.

At my wife's request I rebuilt the nest by hand weaving the twigs together a little more securely and then wedged it into a better position on top of the post.
I was convinced that the birds would not return to the nest as I was told once that they will reject the nest if a human scent is there. I told my wife not to be too hopeful.
The following morning we awoke to see our doves returned and sitting on my newly built nest. We now have had the privilege to watch them trade off positions many times and they seem oblivious to us.
Although we cannot be exactly sure when she produced the eggs, they have been constantly nesting for 14 days as of today.
They did both leave the nest a few days ago and I was able to get a photo of the two white eggs.
The photo is horribly blurred because I wanted to be very quick and not alarm or disturb them.
We are waiting patiently now to see the fledglings hatch and we hope that we will be a regular home for these wonderful creatures.