Special Gift on My Porch
by Patty
(Spokane, Wa U.S.A.)
3 Beautiful Eggs
The robins were very busy last Saturday morning.

Between sunrise and 10 AM, the male robin and his ladybird built this beautiful gift-of-a-bird's nest on my porch light.

Three days later, when the robins were away, I climbed up on one of the porch chairs and took a photo from about six inches away.

Oooh! Three beautiful eggs!

Now my Ladybird sits patiently waiting for the eggs to hatch.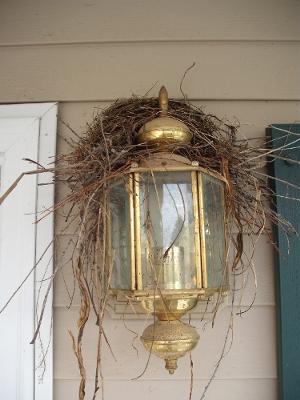 We can hear her chirping inside the house when she's upset or calling her mate.
They will chirp to each other until she is reassured.
Daddy robin is busy, too. He's taking care of Junior from their previous nest.
He's a big baby now: noisy and a handful.
Mom is probably grateful she can rest on a second brood out of the rain and hot sun.
Comments
Jul 01, 2012
My baby flew the coop
by: Julie B.
I recently was the caretaker of four baby birds.
The nest had to be moved while the house was being painted, the owners of the house didn't want it in their yard.
So I took the nest and four baby birds home with me.
It is a big responsibility to take care of baby birds and it should be done by someone in the conservation department.
Sadly, I lost three of the babies but the larger one of the clutch lived.
It was very heartwarming to see him fly away up in the tree when I released him.
I got on the net and found out what to feed them.
It was a birdie smoothie of cat food, berries, and water that I put in the blender and fed to them with a soda straw.
I also gave them water with a soda straw that was mixed with bird vitamins that I purchased at the store.
I also purchased night crawlers at the store and cut them up and fed them pieces of it.
I think the reason the larger one lived was that it had more feathers and kept warmer.
I think maybe the smaller ones got too cold, maybe if I had used a hot water bottle they might have made it.
But who's to say when it comes to wildlife?
But a least the cat didn't eat them, I gave them a fighting chance at life.
We think that the larger of the birds ( bigfoot) comes back to our yard early in the morning.
We heard him and thought we saw him but you know one bird looks like another.
I put seed and water out for him anyway.
-----------------
Jun 25, 2012
common nest
by: Anonymous
I too, had a Robin build a nest on my Light, my husband removed it before I could get my camera out.
------------------------
Jun 25, 2012
No visitors, please!
by: Cliff
You won't be using your front door for a while!
--------------------
Jun 21, 2012
Charming!
by: Anonymous
She probably does prefer letting Dad take care of Junior!
--------------------
Jun 21, 2012
How very sweet!
by: Carrie
I loved "just bi(r)ding her time"!
Join in and write your own page! It's easy to do. How? Simply click here to return to Robins.
Special Gift on My Porch Part II
by Patty
(Spokane)
First there was one.
We have learned a lot in three and a half weeks!

The nest was built on June 10. Three eggs were laid soon after, and two babies hatched on June 25.

My husband said we should remove the nest: they will make a lot of noise, they will make a mess, and the parents will dive-bomb us when we are in the front yard.

I held my ground. I wanted to watch what happens!

Well, it turns out he was wrong! The only mess so far has been cherry pits(there's an orchard nearby).
The babies make no noise at all, even when they are feeding.
I can work in the flower bed directly in front of the nest while Mom repeatedly flies in and feeds her babies.
She sits on the nest and will tolerate me coming in close to take photographs.
I can even climb on the porch chair to check on the baby's progress when she is away.
True, we don't use the front door, but what a wonderful gift on my porch!
Young Rob!
by Jeannie Mitchell Myers
(Drummond Island, Mi.)
My Robin
I've been watching this precious young Robin for a couple of weeks now.

Actually, there are two of them but I will call this one Rob.

I wish I could have been there to see its first flight but for now, I observe how brave he is in his continuing to gather goodies flying from limb to limb with a bit of a wobble still.

It is July 7, 2020. He doesn't let me bother him at all, the two are so much fun to watch.

I am not sure which is female or male but love the name Rob for now.

These beauties live here on an island, Drummond Island, in Drummond Island, Michigan.

I just had to share this sweet feathered friend. Please enjoy!


Join in and write your own page! It's easy to do. How? Simply click here to return to Robins.
Baby Robin Extended Bath?
by Kathy Kumler
(Danville. IL. USA)
Strange looking baby robin?
Our birdbath must have been soothing for this Robin! I checked on it quite a few times and it was still sitting there!

I know it was humid but it must have really enjoyed the water! But wouldn't it have been hot too? It would have been wet though!

Or do you think it landed there and then didn't know how to get out? Its eyes moved to look at me when I was taking the picture!

They were very bulging eyes! It was kinda creepy as you usually don't get that close to them!

Maybe I should have put in bubbles! Then it could have enjoyed a soothing bubble bath and had smooth feathers too!

Do you think it was a baby robin? It looked fairly large and all puffed up! What does that mean?

And it didn't move but I've heard that they do that. Very curious.

Well, I'm sorry to report that this morning it was upside down and gone. It was sad.
Maybe I will see it in heaven when I go. Seeing it all happy and flying around with all the other birds!
Yes, that's what I'll keep thinking as I give it a proper burial!
Red the Amazing Robin
by michael
(bristol uk)
My Robin Friend
On the 20 of December 2018, I found myself homeless, all I had was my pop-up tent and pushbike.

It was the early hours of the morning, freezing cold.
I decided to pitch my tent up in one of the local parks. I found a good spot out of the way with hedges surrounding my tent on top of a hill.
I woke up the next morning with a faint tapping noise outside. I unzipped the door and to my amazement, a Robin was pitched outside staring at me.
Hello, I said as his head moved from side to side. It looked as if he was trying to work me out.
Anyway, I stayed on top of that hill for just over a year and in that time my friend used to fly into my tent and perch on my knee, eating breakfast every morning right beside me.
I made a flat piece of wood outside my tent to eat my food.
Right beside my bowl, he had his crushed-up biscuit and he would fly in and start pecking away.
I once put a shaving mirror up and was crazy to see him flying into it after watching him do this a number of times I took the mirror down for his safety.
If I had overslept in my tent he would continually tap on the outside. I captured my friend on my phone by video and photo just to prove his amazing behavior. Unbelievable!
Join in and write your own page! It's easy to do. How? Simply click here to return to Robins.
Robin playing in water
by Mersi
(Nevada)
Beautiful Red Robin's Bathing In The Sun
The Beauty of Robins Bathing in the Sun

Early in the morning, these beautiful birds were chirping so loudly, it was so captivating.

Noticing the bright red color on its chest grabbed my attention. It was such an angelic view.

The sun hitting the trees the brightness of the whole image was so pure, nothing compares to actually looking at these birds playing in the water puddles from the sprinklers in the grass, in person rather than what you see in just a captured image.

They flapped their wings up and down, happily giving me a sense of freedom.

Join in and write your own page! It's easy to do. How? Simply click here to return to Robins.