Little Wren Launching
by Rae
(Griswold CT.)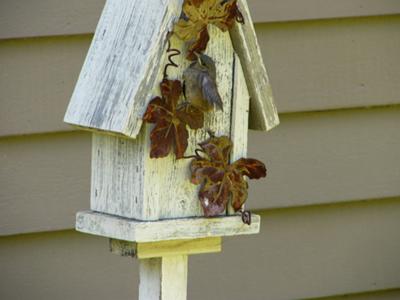 This is the second or third baby who got stuck coming out and went back in the box
I have had this box which was more of a decoration than a nesting box for about 5 years. This is the first year a wren made a nest in it.

I watched it closely, took lots of photo's and was fortunate to see the first baby fly off. The photo's are of the second or third one that just couldn't make it out of the box.

It got stuck and crawled back in the box and chirped for about an hour or so at the hole. I talked softly to it and approached it carefully and reached out to touch it and it let me stroke it's neck.

It jumped out on my hand and quickly pooped in my hand (LOL), it stayed for a few seconds and then launched from my hand. The mother and father are now setting up again in the same box with another brood.

The mother stays at the hole for a few minutes and I talk to her before she fly's off to the nearby apple tree.

After the first babies flew off the father was singing his head off for hours during the morning and most of the day and I think he was singing for his mate to come check out the box again.

They are the sweetest little birds that I have ever seen.